---
NASCAR BGN: Bobby Labonte, Dick Trickle Crash at Charlotte
22 May 1998
Bobby Labonte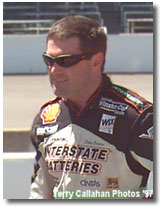 CONCORD, NC:
Bobby Labonte, the polesitter for Saturday's Carquest Auto Parts 300 NASCAR Busch Grand National race at Charlotte Motor Speedway crashed during the final laps of practice today. Dick Trickle was also involved in the backstretch incident.
Labonte, who is substituting for Indy 500 driver Tony Stewart this weekend, and Trickle were uninjured in the crash.
The Joe Gibbs Racing Teams plans to repair the Labonte car. The team intends to start from their coveted pole position on Saturday.
Trickle will not attempt to start in his original 14th spot. The team has elected to go to the backup car. Trickle will be forced to start the race from the rear of the field under NASCAR rules.
According to the Gibbs team, Trickle was running considerably slower than Labonte down the backstretch. Trickle cut a tire in front of Labonte just prior to the accident.
Editors Note: The images displayed in this article (plus many more) can be viewed in the Visions of Speed Art Gallery and the Racing Image Galleries.