---
IRL, NASCAR-WCUP: Pennzoil Pit Crews Win Competitions on Thursday
22 May 1998
Thursday was the best of times for Pennzoil's NASCAR Winston Cup pit crew as well as its Indy Racing League team as both team won respective pit crew competitions held as prelude's to Sunday's Coca-Cola 600 in Charlotte and the Indianapolis 500.
Scott Goodyear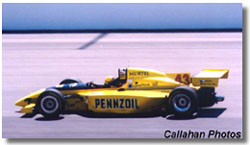 The Panther Racing team and driver Scott Goodyear claimed to the top honor at the Indianapolis Motor Speedway in the nationally televised event. The Panther Pack defeated the Menard team in the final round of competition Thursday afternoon only hours after the team completed its final preparation for Sunday's race. The Indianapolis 500 begins at noon (Eastern Time).
Thursday night, the Dale Earnhardt Inc. crew defeated nine other Winston Cup teams by turning the quickest stop in a pit stop competition held in downtown Charlotte. The competition came after the team and driver Darrell Waltrip joined in a special night practice in preparation Sunday's race that begins in the late afternoon and finishes at night.
Both Panther Racing and DEI are first year teams.