---
Indy 500: Foyt's Drivers Fast in Final Carb Day Practice
21 May 1998
Billy Boat

INDIANAPOLIS
- A.J. Foyt's drivers, Kenny Brack and Billy Boat, posted the two fastest speeds Thursday during Carburetion Day, the last day of practice before the 82nd Indianapolis 500 on Sunday.
Brack, who will start third Sunday, led at 220.994 mph in the PowerTeam Dallara/Aurora/Goodyear. Pole sitter Boat was second at 219.181 in the Conseco Dallara/Aurora/Goodyear on the 2.5-mile oval.
Kenny Brack

"The car performed good, same as all week," Brack said. "We had a small brake fluid leak. But that's what Carb Day is for, to find the smallest glitches and get ready for race day."
The Indianapolis 500 starts at 11 a.m. (CDT) Sunday.
Pep Boys Indy Racing League points leader Tony Stewart, who will start fourth, was third fastest at 218.999 in the Glidden-Menards Special Dallara/Aurora/Firestone. No. 2 starter Greg Ray was fourth fastest at 217.754 in the TKM/Genoa Racing Dallara/Aurora/Firestone. The low-budget TKM/Genoa team received a boost when it learned that True Value, Texas Motor Speedway and The Nashville Network will serve as primary sponsors for Ray's car at this race.
Treadway Racing and defending race champion Arie Luyendyk apparently have conquered the engine demons that plagued them during Pole Day last Saturday. Luyendyk was fifth fastest at 217.229 in the Sprint PCS-Radio Shack-Qualcomm G Force/Aurora/Firestone. Luyendyk is starting 28th, as he didn't qualify until Bubble Day last Sunday. He won last year from the pole.
"As far as the race goes, I'm going to lay back in the beginning rather than attack," Luyendyk said. "We'd like to go to the front, and be there and stay there. It really depends on how the race unfolds. The approach will be pretty sensible, all in all, to get to the front."
Scott Goodyear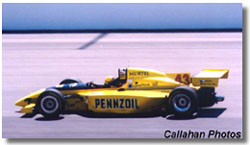 Panther Racing and its driver, Scott Goodyear, earned $40,000 for winning the Coors Indy Pit Stop Challenge. Panther and Goodyear beat Team Menard and driver Robbie Buhl in the final, changing four tires and simulating a fuel-hose connection in 17.307 seconds, including a five-second penalty for a loose lugnut. It was the first victory in any competition at Indianapolis Motor Speedway for Goodyear, who has finished second twice in the Indianapolis 500.
"I think it's a great omen," Goodyear said. "You're always looking for an advantage here. We just have to make sure we cross the line first. We have some unfinished business here, for sure."
All 33 starters for Sunday's race participated in the final practice.
Editors Note: The images displayed in this article (plus many more) can be viewed in the Visions of Speed Art Gallery and the Racing Image Galleries.