---
CART: PPG Cup Leader Moore Leads Practice for Motorola 300
21 May 1998
MADISON, IL:
Greg Moore posted the fastest speed Thursday during the rain-shortened opening day of practice for Saturday's Motorola 300 at Gateway International Raceway.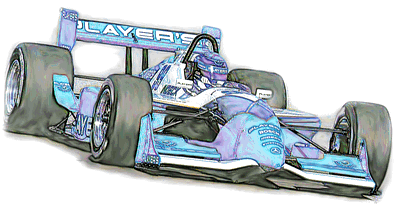 Greg Moore
Moore averaged 177.505 mph on his fastest lap around the 1.27 mile oval. He enters the weekend with a 71-67 lead over defending champion Alex Zanardi in the PPG Cup points standings.
Qualifying for Saturday's Motorola 300 begins at 3:15 p.m. ET Friday. The pole winner collects the $10,000 Marlboro Pole Award, with the opportunity to add an additional $195,000 in rollover bonus money, a record for the six-year history of the award.
Moore's fast lap came on his 27th and final one during the morning practice session. The split afternoon practice session was canceled due to train. He heads into Friday's qualifying as the quickest, but 24 cars were within a second of Moore's time.
"I'm very comfortable with the laps we ran today," Moore said. "We didn't test at all here(prior) so like Nazareth, we spent the first hour getting used to what the car felt like with speedway wings. The last half-hour, we concentrated on getting some good laps in, and it seemed to work out well."
All cars are running the Gateway oval with speedway wings this weekend, rather than the road- course configuration that was used during the inaugural Motorola 300 last year.
Jimmy Vasser, the 1996 PPG Cup champion, was second fastest at 177.161 mph. He pursues his second pole position of the season Friday, after earning the top starting spot at Japan based on fastest practice time when qualifying was rained out.
"The car has a lot less downforce and a lot less grip (with speedway wings), but we're still achieving higher top-end speeds down the straightaways," said Vasser. "We were able to test here on time in this configuration late last year, in October or November, and some of what we learned there has transferred to the 1998 car, but not everything. We're still confident that we can work with the engineers to solve whatever problems still remain."
Rookie Tony Kanaan was third fastest ast 177.106 mph. He said, "The rain puts us a little bit behind, but at least it's the same for everybody." Kanaan had a career-best third-place qualifying effort at Brazil two weeks ago. "We had a pretty good run today, and I hope the weather can stay the same tomorrow as it was this morning."
J.J. Lehto was the fourth fastest a 177.010, followed by Dario Franchitti at 175.657 mph.
Qualifying for the Motorola 300 will air at 5 p.m. ET Friday on ESPN2.
Editors Note: The images displayed in this article (plus many more) can be viewed in the Visions of Speed Art Gallery and the Racing Image Galleries.