---
NASCAR BGN: Bobby Labonte and Shell Team Look to Keep Streak Going
21 May 1998
CHARLOTTE, NC
- Bobby Labonte and the #44 Shell Pontiac team have a perfect record in 1998 NASCAR Busch Grand National Series Competition. They are one win for one entry at Darlington in March. Labonte looks to keep the streak going when he substitutes for teammate Tony Stewart in the May 23 Carquest Auto Parts 300 at Charlotte Motor Speedway.
Tony Stewart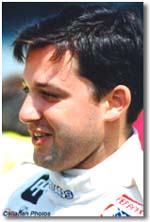 Stewart is unable to drive the Shell Pontiac at Charlotte due to the contractual commitment he has with Menard Racing to compete in the Indianapolis 500.
"I'm looking forward to the opportunity of driving the Shell Pontiac in the Busch race at Charlotte," said Labonte. "It's one of my favorite tracks. We have had some great runs there over the past few years. I want to wish Tony the best of luck at Indy. He's really in position to win the Indianapolis 500. It would be tremendous for both of us to bring home a victory this weekend.
"So far this year we are one for one in the Busch Series with the win at Darlington. We've had a couple of second place finishes at Charlotte, but haven't won here in the Busch race. It would be a strong statement about the capability of the Shell crew to win this race. They just had a solid second place finish with Tony in New Hampshire. Our goal is to continue that momentum with a good run at Charlotte."
Bobby Labonte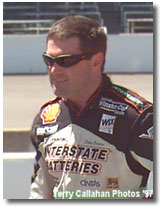 "It's an easy transition for us to have Bobby drive the Shell Pontiac," said Bryant Frazier, Shell team crew chief. "We were fortunate to win the Darlington Busch race and would like to add Charlotte to our list of wins. Bobby has won the Charlotte Winston Cup race so it is clear he knows the track. Last fall, he and Tony had a great race there with good finishes. We feel we are in position for another strong run and have the potential to bring home the victory for Shell, Pontiac and Joe Gibbs Racing. We will all be pulling for Tony at Indy and wish him the best of luck. If we can win the Charlotte Busch race, that could be a good omen for him on Sunday in the Indianapolis 500."
Prior to this season, Labonte was the owner/driver of the Shell-sponsored team running a limited BGN schedule. Following the sale of the team to Joe Gibbs Racing, Shell Oil Company made the decision to continue as the primary sponsor for 1998.
Labonte has nine NASCAR BGN victories to his credit. He has garnered 47 top- five and 86 top-ten finishes and was crowned the series champion in 1991. In previous Charlotte Motor Speedway competition, Labonte has four top-five finishes, his best being two second place finishes.
Shell is an associate sponsor of Labonte's #18 Joe Gibbs Racing NASCAR Winston Cup car. Currently ranked ninth in the Winston Cup point standings, Labonte has captured two victories in 1998, Atlanta and Talladega.
The Carquest Auto Parts 300 is scheduled for Saturday, May 23 beginning at 1:00 p.m. (EDT). The race will be broadcast live by TBS and PRN radio.
Shell Oil Company is one of America's leading oil and natural gas producers, manufacturers, transporters and marketers of oil and chemical products. It is a recognized pioneer in technology for oil and gas exploration and the largest gasoline marketer in the United States. Headquartered in Houston, Texas, Shell Oil is an affiliate of the Royal Dutch/Shell Group of Companies.
Editors Note: The images displayed in this article are available for larger viewing in The Racing Image Galleries and The Visions of Speed Art Gallery
.