---
IRL: Riley & Scott's MK V Chassis Proves its Point During May Qualifier
20 May 1998
Indianapolis, IN.
- Though the R&S Car's factory team's efforts came to a disappointing result at this past weekend's 2-day Qualifier at the Indianapolis 500, the Riley & Scott's Mk V IRL chassis proved to many teams that it was a strong contender on issues of performance and safety.
Eliseo Salazar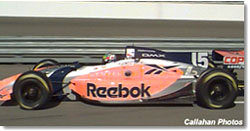 Having run a top Practice time of 221.637 as well as consistently competitive times in the surprising, but extreme Indiana heat, the Salazar-led Reebok Racing R&S Mk V race team went into Saturday's Qualifier sixth quickest in the field and feeling strong. In a blink of an eye, it all changed. On his first green lap, with a trap speed reading of 229, Salazar slid on cold tires and hit the Turn 1 wall at an estimated 81 Gs.
"Riley & Scott have always believed that safety and speed can co-exist," said Riley & Scott vice president and Reebok Racing Team Manager Mark Scott of the incident, "To have Eliseo be able to make another qualifying attempt just five hours after a crash of that magnitude would not have been possible a few years ago. Saturday's unfortunate crash showcases the strength of our cars as well as the strength of the IRL rules."
With their Primary car now destroyed, the team went on to make five additional qualifying attempts in both their T-car as well as cars borrowed from Riley & Scott customers', Neinhouse Motorsports and Metro Racing. In the end, Salazar's final qualifying speed of 216.259 got bumped off the bubble late in the day pushing the team to the first alternate position for the 82nd running of the Indianapolis 500.
"Those final hours on Sunday showed you the best of racing and why I love this sport so deeply," spoke Bob Riley, President of Riley & Scott, Inc." As our factory team made each stride to pull it out, our customers came in full force behind to help the cause. Racing is never about one person's performance and this weekend, it was shown it is not just about one team's performance either."
R&S customer, Stan Wattles, in the #19 Metro Racing Systems/NCLD R&S Mk V, qualified 29th in Row 10 for Sunday's race with a 4-lap average of 217.477. As a result, Wattles went on to win the Ferguson Steel award for the most consistent rookie qualifying run with lap speeds of 217.260, 217.523, 217.517 and 217.607 miles an hour. Race officials said the qualifying effort was the most consistent of all drivers, including rookies and veterans.
"Our congratulations to Stan", reiterated Scott, "He has fought the long and the hard for this and we share his excitement at being in the Sunday's contest."
Riley & Scott, Inc., in an effort to help Reebok accomplish its marketing and sales goals, has helped arrange the sponsorship of Davey Hamilton and the Neinhouse Motorsports #2 G-Force Aurora for the Indianapolis 500 race as well as to implement its extensive hospitality program.
R&S Cars will continue to prepare for any possibility Sunday may bring, as well as turn its focus to seeking a solid result for Reebok at Texas World Speedway, on June 6th, and Round 4 of the Indy Racing League's 1998 race season.
Editors Note: The images displayed in this article (plus many more) can be viewed in The Racing Image Galleries and the Visions of Speed Art Gallery.