---
NASCAR: Square D Racing Review/Preview
19 May 1998
Kenny Wallace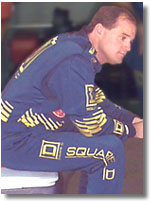 HARRISBURG, N.C:
- After starting 19th on the grid, Kenny Wallace wheeled his Square D Ford to a 15th place finish in Saturday night's running of The Winston Open at the 1.5-mile Charlotte (N.C.) Motor Speedway.
"The night didn't turn out the way we would've wanted it to," said Wallace. "Nonetheless, we raced hard and we were competitive. The car we raced with was a new car that we needed to evaluate, and we did that. Our performance was better than it was the other night in our No Bull 25 race. We're really working hard. We're not satisfied with where we are, but we're still going after it."
Surviving the longest event on the NASCAR Winston Cup Series' 33-race schedule is a two-fold process according to Square D Ford driver Kenny Wallace. One needs to be physically prepared to sustain the 400 grueling laps that make up the Coca-Cola 600 at Charlotte Motor Speedway. Additionally, one must also take care of his equipment in order to be competitive in the last 100 miles, which is 100 miles more than any other Winston Cup race.
"From a physical standpoint, I'm drinking a lot of water and a lot of Gatorade and I'm eating healthy meals at home," said Wallace. "It's incredibly humid - we found that out during the No Bull 25s and The Winston Open, so you've got to stay hydrated. Whatever you sweat out you've got to put back in. We'll also have an air conditioning system hooked up in the car that will pump cool, fresh air into my helmet.
"In The Winston Open, I drove as hard as I could every single lap, but it was only a 50-lap race. In the 600 though, you just can't do that. You need to conserve your equipment so that you're around for the finish - and on the lead lap. I know I've said it before, but you must first finish to finish first. That's exactly the case with the 600."
Kenny Wallace's Charlotte Performance Profile:

Year              Event        Start     Finish     Status/Laps
Earnings
1997       Coca-Cola 600           23      39      Accident/192
$25,400
           UAW-GM 500              26      28      Running/330
$23,150
1996       Coca -Cola 600          16      32      Engine/332
$8,445 
           UAW-GM 500              41      30      Running/325
$8,365 
1995       Coca -Cola 600          37      31      Rear End/333
$6,750 
1994       Mello Yellow 500        21      14      Running/332
$22,100 
1993       Coca -Cola 600          24      23      Running/392
$10,000 
           Mello Yellow 500        42      35      Running/304
$5,975 
1991       Coca -Cola 600          19      13      Running/398
$17,700 

Editors Note:
The images displayed in this article (plus many more) can be viewed in
The Racing Image Galleries
and the
Visions of Speed Art Gallery
.