---
Indy 500: Racing Legend Replaces Injured Greg Norman as Pace Car Driver
18 May 1998
DETROIT
-- Parnelli Jones, among the most famous and recognizable names in auto racing, will be behind the wheel of the 1998 Corvette Convertible Indianapolis 500 Pace Car May 24, replacing golfing legend Greg "The Shark" Norman, who is recovering from recent shoulder surgery. Norman, who is the PGA's leading all-time money winner, was originally scheduled to serve as the official pace car driver.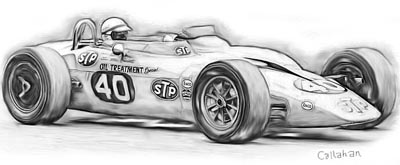 Parnelli Jones in 1967 Indy 500
"We certainly regret that Greg will not be able to serve as our official pace car driver," said John G. Middlebrook, Chevrolet general manager and a General Motors vice president. "However, the most important thing for all concerned is Greg's long-term health and ability to continue to perform as a world class golfer. Greg has been a key member of the Chevy team since 1995, and we look forward to continuing our association.
"At the same time, we are honored that Parnelli Jones, one of the most dominant forces in the history of Indy-style cars, is available to pace the historic race," Middlebrook added. "Parnelli is a terrific fit for the 1998 Corvette Convertible Indianapolis Pace Car because he has won nearly every major auto race event in the United States, including the Indy 500 in 1963. We look forward to a great event."
Jones, who has conquered nearly every form of auto racing, is a pioneer in the sport of off-road racing, winning both the rugged Baja 500 five times, and the Baja 1000 mile races three times, a feat not likely to be repeated.
"The Indianapolis 500 has always had a special place in my heart, and I'm honored to have been selected by Chevrolet and the Indianapolis Motor Speedway," Jones said.
Jones, along with one of his partners, Vel Miletich, had one of the most famous and successful racing teams in the history of racing with such notable names as Mario Andretti, Joe Leonard, and Al Unser. The Vel's Parnelli Jones Racing Team, with Al Unser, won the Indy 500 in 1970 and 1971, and the USAC Championship title in 1970.
Chevrolet sets a record 11th pace car appearance this year at the Indianapolis 500, and the fourth appearance by the legendary Corvette. The first Corvette Pace Car lead the Indy 500 in 1978, with subsequent appearances in 1986, and 1995.
Norman would not have been the first non-automotive celebrity to drive a Chevy pace car at the Indy 500, but he would have been among the few. Past Chevy pace car drivers have usually been selected from the ranks of former Indy 500 drivers, but have also included some Chevrolet general managers -- and even flying ace and aerospace pioneer, Brigadier General Chuck Yeager.
Editors Note: The images displayed in this article (plus many more) can be viewed in the Visions of Speed Art Gallery and the Racing Image Galleries.