---
Indy 500 Crash Report, May 16: Paul Durant
17 May 1998
Paul Durant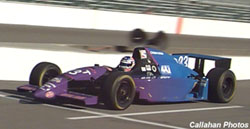 INDIANAPOLIS:
Pep Boys Indy Racing League drive Paul Durant crashed this morning during practice for the 1998 Indianapolis 500.
Durant lost control of the car in the middle of turn one. He spun hard into the wall. Durant rode the wall into turn two. Three tires came off the car upon impact.
Paul Durant unbuckled himself and exited the car under his own power. Durant was attempting to qualify for his second Indianapolis 500.
Qualifications for the 1998 Indy 500 will begin promptly at 11:00 today. Only drivers who qualify today will be eligible for the coveted pole position. Qualifying will conclude on Sunday. The 82nd Indy 500 will be May 24.
Editors Note: The images displayed in this article are available for larger viewing in The Racing Image Galleries and The Visions of Speed Art Gallery
.