---
Indy 500 Crash Report, May 16: Eliseo Salazar
16 May 1998
Eliseo Salazar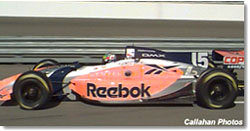 INDIANAPOLIS:
Pep Boys Indy Racing League driver Eliseo Salazar crashed this afternoon during a qualification attempt for the 1998 Indianapolis 500.
Salazar lost the back end of his race car in the middle of turn one. His left front tire appeared to be in the grass as he began to spin. Salazar did a 270 degree spin and ran head-on into the wall. The car was airborne briefly. It was by far the most serious looking accident of the month..
Safety crews responded immediately. Salazar left what was left of the car under his own power. Salazar was transported to the infield Clarian Emergency Medical Center. He had a bruised left shoulder and was sent to Methodist Hospital in Indianapolis for x-rays.
Qualifications for the 1998 Indy 500 will began promptly at 11:00 today. Only drivers who qualify today will be eligible for the coveted pole position. Qualifying will conclude on Sunday. The 82nd Indy 500 will be May 24.
Editors Note: The images displayed in this article are available for larger viewing in The Racing Image Galleries and The Visions of Speed Art Gallery
.