---
Indy 500: Stewart Prepares for Run at Pole by Leading Practice
16 May 1998
STEWART PREPARES FOR RUN AT POLE BY LEADING PRACTICE
Tony Stewart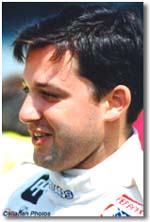 INDIANAPOLIS, May 15, 1998 - Tony Stewart secured his position as the favorite for the pole for the 82nd Indianapolis 500 by leading practice with a speed of 223.797 mph, the fastest speed ever at the Indianapolis Motor Speedway in a new-formula Pep Boys IRL car.
Pole qualifying starts at 11 a.m. (CDT) Saturday. Pep Boys Indy Racing League points leader Stewart has led four of the last six days of practice in his Glidden-Menards Special Dallara/Aurora/Firestone, including the last two. He has shown remarkable consistency, as his leading times the four days have ranged from 223.430 to 223.797.
"We can sit here and guess all day," Stewart said when asked to predict the pole speed. "Whatever the pole speed is going to be, it's going to be." Stewart had recorded the previous fastest lap by a new-formula IRL car, 223.703 mph, during practice Monday. New-formula IRL cars are powered by normally aspirated engines.
Arie Luyendyk recorded the fastest official lap ever at the Speedway, 239.260 mph, during practice May 10, 1996. IRL cars used turbocharged engines that year. The league switched to the new formula in January 1997.
A.J. Foyt's drivers, Kenny Brack and Billy Boat, continued to pressure Stewart on Friday. Brack was second fastest at 223.797 mph in the Power Team Racing Dallara/Aurora/Goodyear, and Boat was third at 221.691 in his backup Conseco Racing Dallara/Aurora/Goodyear.
Boat was forced to use his backup car when he crashed his primary car just 22 minutes into the practice session. Boat was unhurt after he hit the outside retaining wall with the right side of his car while exiting Turn 3, slid through the short chute and hit the outside wall again with the right side of the car in Turn 4.
1983 Indianapolis 500 winner Tom Sneva was honored as part of the Speedway's Parade of Champions. He drove two ceremonial laps in the Texaco Star that he guided to victory.
The 82nd Indianapolis 500 is May 24.
Editors Note: The images displayed in this article are available for larger viewing in The Racing Image Galleries and The Visions of Speed Art Gallery
.