---
Indy 500: Stewart Posts Fastest Speed of the Month
15 May 1998
Tony Stewart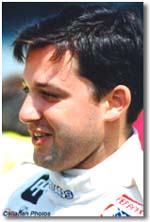 INDIANAPOLIS:
It was another day of high humidity and high temperatures at the Indianapolis Motor Speedway this afternoon as the drivers in the Pep Boys Indy Racing League practiced for the final full day before qualifying for the 1998 Indy 500.
Tony Stewart topped the charts once again. Stewart made a run early in the day. He ran a lap at 223.797 mph at 12:26 p.m. It was the fastest lap of the month.
Kenny Brack raised some eyebrows as he toured the Speedway in his A.J. Foyt prepared Powerteam car at a speed of 223.464 mph. Brack's speed came in the heat of the day. He will be considered a legitimate threat for the pole position.
The run for the pole will begin at 11:00 a.m. tomorrow morning. Awards for the pole include $100,000 from PPG Industries.
Editors Note: The images displayed in this article are available for larger viewing in The Racing Image Galleries and The Visions of Speed Art Gallery
.