---
Indy 500: Greg Ray Picking Up Speed and Sponsors
15 May 1998
Greg Ray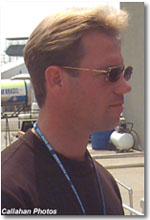 INDIANAPOLIS:
The Thomas Knapp Motorsports/Genoa Team garage and phone line has been ver busy since Tuesday, may 12 when the Indianapolis Star announced that Greg Ray had lost their only cars sponsor. Greg's time on the track improved as he turned a lap of 222.7 mph on Thursday, May 14.
Mike and Deborah Spaulding of Gloves, Inc., of Beech Grove, Indiana has become an associated sponsor and their logo was placed on the wings of the #97 Dallara yesterday.
On Thursday, May 14, Mike and Deborah brought over their attorneys, Mark H. Morris and John A. Leinhart of London, Witte & Company, LLP and they have become supporting sponsors of the Greg Rat team. Their law firm's logo is being placed on the sides of the nose.
Greg Ray

In addition, Matt Schnieder of Cellwaves, Incorporated based in Plainfield, Indiana and Schneider's associates, Ryan Berning, owner of Cellular Consultants, Inc. based in Lafayette, Indiana have also joined the supporting sponsor line-up. Their logos are being placed on the air intakes. Cellwaves, Inc. is the largest reseller of arch paging systems in the West Side metroplex. Both communication companies sell mobile phones, pagers, and communication accessories and Cellular Consultants has received awards for agents of the year for Cellular One.
"Our team is still in need of a major sponsor," Ray explains. "We are excited and grateful to have these local sponsors who have stepped up at or time of need, but we still have to play a conservative game until we have a significant sponsor," Ray concludes.
For any information on sponsorship for the TKM/Genoa team driven by Greg Ray, please contact Thomas Knapp at the garage (317) 241-5786 or e-mail Kathy Prather at kp@mcmann-tate.com.
Editors Note: The images displayed in this article are available for larger viewing in The Racing Image Galleries and The Visions of Speed Art Gallery
.