---
Indy 500: Hard Rock Beer to Sponsor Scott Goodyear
15 May 1998
Scott Goodyear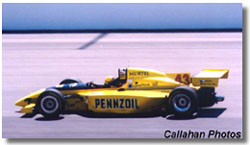 INDIANAPOLIS:
Panther Racing announced today that Hard Rock Beer will be an associate sponsor of the Pennzoil Panther G-Force racing team and driver Scott Goodyear for the upcoming Indianapolis 500, and the remainder of the 1998 Pep Boys Indy Racing League season.
"We are extremely excited to introduce Hard Rock Cafe and Hard Rock Beer to the Pep Boys Indy Racing League and the Indianapolis 500," said John Barnes, co-owner and team manager of the Pennzoil Panther G-Force. "The Indianapolis 500, the Indianapolis Motor Speedway, and Hard Rock are all internationally recognized brand names, and I think this agreement will increase exposure for all of us."
During the last two months, Hard Rock Beer has introduced its tow super premium American beers in Hard Rock Cafes across the country. "Hard Rock Beer offers great taste, with some rock and roll mixed in," said Jim Berk, President and CEO of Hard Rock Cafe International. The beers - Hard Gauge and Light Gauge - will be available through retail outlets this summer.
The kickoff of national distribution of Hard Rock Beer coincides with the scheduled start of the Indianapolis 500 on Sunday, May 24. "We are very pleased to join Panther Racing, Scott Goodyear and Pennzoil as participants in this classic American icon of sporting events. What a great way to kick off another classic American product we are very excited about," said Berk.
Hard Rock Cafe International, Inc., owns and/or franchises a worldwide network of 87 Hard Rock Cafes in 30 countries. With international control of the brand, Hard Rock has expanded into television with the Hard Rock Live weekly music series on VH-1, a Hard Rock Records music label, Hard Rock Liver performance venues, hard Rock Hotel & Beach Clubs, NBA restaurants, and Hard Rock Beer.
Editors Note: The images displayed in this article are available for larger viewing in The Racing Image Galleries and The Visions of Speed Art Gallery
.