---
Indy 500: Stewart Returns with Vengance at Indy Practice
15 May 1998
Tony Stewart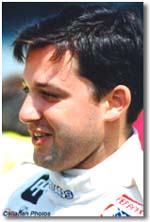 INDIANAPOLIS
- Tony Stewart returned from a one-day break and led practice for the 82nd Indianapolis 500 with a speed of 223.430 mph, recorded with just two minutes remaining in practice.
Stewart led practice for the third time in five days since the track opened Sunday. He edged Kenny Brack, who was No. 2 at 223.264 in the Power Team Racing Dallara/Aurora/Goodyear owned by four-time Indy 500 winner A.J. Foyt on a steamy day where track surface temperatures reached 140 degrees.
"Foyt's going to have to work harder if he wants the top spot," said Stewart, defending Pep Boys Indy Racing League champion. Stewart didn't practice Wednesday as his team worked on the engines in his Glidden-Menards Special Dallara/Aurora/Firestone.
Pole Day is Saturday and Bump Day Sunday in the new, shortened qualifying format. The Indianapolis 500 is May 24.
Greg Ray continued to show impressive speed despite his team's small budget, as he was third fastest at 222.717 in the TKM/Genoa Racing Dallara/Aurora/Firestone.
Rookie Jimmy Kite was unhurt when his Royal Purple Synthetic-Synerlec-Scandia Dallara/Aurora/Goodyear did a half-spin entering Turn 4 and backed into the outside retaining wall. He was evaluated and released by Dr. Henry Bock, Speedway medical director.
Veteran Joe Gosek passed his refresher test in a car that he borrowed from fellow veteran Mike Groff, and USAC standout Jack Hewitt completed the final phase of the Rookie Orientation Program. Both now are eligible to participate in qualifying and the race.
Four-time Indianapolis 500 winner Al Unser Sr. was honored as part of the Speedway's Parade of Champions. He drove two ceremonial laps in the Cummins Holset Turbo that he guided to victory in 1987, his last victory. 1983 Indy 500 winner Tom Sneva will be honored Friday, the last day of the celebration of past champions.
Practice continues at 11 a.m. Friday.
TOP 10 DRIVERS OF THE DAY (Full speed chart unavailable due to technical difficulties)

1       1       Tony Stewart            Glidden-Menards Special
223.430
2       14      Kenny Brack             A.J. Foyt Power Team Racing
223.264
3       97      Greg Ray                TKM-Genoa Racing
222.717
4       15      Eliseo Salazar          Reebok R&S MK V
221.637
5       1T      Tony Stewart            Glidden-Menards Special
221.571
6       8T      Scott Sharp             Delphi Automotive Systems
220.577
7       3       Robbie Buhl             Johns Manville-Menards Special
220.399
8       16      Marco Greco             Int. Sports Ltd. Phoenix Racing
220.189
9       91T     Buddy Lazier            Delta Faucet/Coors Light/Hemelgarn
219.587
10      51      Eddie Cheever Jr.       Rachel's Potato Chips
219.282