---
Indy 500: NFL Star Harbaugh Enthusiastic about Car Ownership
14 May 1998
INDIANAPOLIS, May 14, 1998 -- Jim Harbaugh is known as a scrambling quarterback in the National Football League. He hasn't done a bad job of scrambling at the Indianapolis Motor Speedway, either.
How about from a scalper's ticket to the 500-Mile Race in 1994 to a spot in the pits as an owner this month?
Other than a visit to the time trials when he was 10, Harbaugh had not been around the Speedway or auto racing. Then in 1994, the Chicago Bears traded him to the Indianapolis Colts. He was in town on Race Day and decided he wanted to see the race.
"Scalped a ticket out front, paid $20," Harbaugh said. "The race already was on. It wasn't a great seat, just one of those ticket-to-get-you-in-the-game things."
The next year, former Bears teammate Cap Boso, who was from Indianapolis and a graduate of Chatard High School, provided a ticket in Turn 4. By 1996, while coming within one pass completion of quarterbacking the Colts into the Super Bowl, Harbaugh had met local car dealer Gary Pedigo and sat in his suite.
Harbaugh continued his climb in status and last May watched the race from track president Tony George's suite.
Scott Goodyear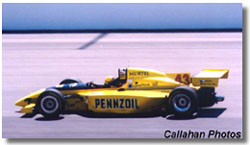 "Now I'm dowwwwn in the pits," said Harbaugh, the co-owner of the Pennzoil Panther Racing team that has Scott Goodyear as its driver.
"New year, who knows where I'll go. Maybe I'll be in the car one of these days. I've just been real lucky, real fortunate."
Harbaugh was not re-signed by the Colts and will be the quarterback for the Baltimore Ravens this fall. He was lured into becoming a car owner late last year through his association with team manager John Barnes and other Indianapolis partners Terry Lingner, Mike Griffin, Randy Fishman and Doug Boles.
The football player who can bring 80,000 fans to their feet calls the excitement of the "500" as off the charts.
"You watch those guys come around the first lap at Indy, and I think it is the most exciting thing I've ever seen in sports," Harbaugh said.
"I think what drew me to it was the opportunity, really, the IRL gives team owners. You look at some other professional sports like football, baseball, major league hockey or basketball, you have no way to own a franchise unless you are a billionaire."
Harbaugh noted the Pep Boys Indy Racing League format enables people like him and his partners to participate in the highest level of the sport with less expense than other series.
"We've been seeing a lot of close races, good people, a lot of great young drivers with a chance to run," he said. "Here's a format - it still takes quite a bit of money to run these cars - where you leave a little bit more up to the driver."
Goodyear and Harbaugh are close to the same age and each is a star in his own arena. But Harbaugh said he can't compare himself to a race driver. "These guys actually put their lives on the line," he said. "I don't know what that's like, I don't pretend to."
Harbaugh said he saw a fan wearing a T-shirt with printing on it that explained the difference. The words said, "In racing, when it goes out of bounds it doesn't come back."
The NFL veteran said the risk factor in the two sports is different. He noted that in football, players stop caring about what happens to them mentally and physically and are concerned only with personal pride, doing well and playing for a winning team.
"You kind of lose that self-preservation thing and just play," he said. But Harbaugh points out that there is a tremendous amount of teamwork involved in both sports. He said it is not the driver against the other 32 in the race, but everybody who prepares the car and services it against other teams up and down the pits.
"The driver's putting his life in their hands," he said. "It's definitely certain that the driver has got a lot on the line."
Harbaugh calls Goodyear a fiery competitor who is smart and not afraid to take risks to win races.
The football player-car owner reaffirmed that start of the "500" is much more exciting than the opening kickoff of a football game.
"When they (cars) all come thundering around for the start of the race, especially Indy, there's nothing like this," he said.
Harbaugh said it is fun to watch the crew members head-butting, giving high fives and displaying their games faces and seeing Goodyear emotionally charged just as he is before a game.
"It's great," he said.
Harbaugh, who will handle the signboard on Race Day, said he will make no suggestions in the pits during the race. He is learning and told the crew to treat him like he is a fourth-grader.
"Because that's kind of my level right now," he said.