---
Indy 500: John Paul Jr. Replaces Danny Ongais
14 May 1998
John Paul Jr.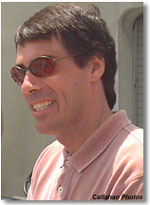 INDIANAPOLIS:
As reported earlier this week, John Paul Jr., a talented driver in the Pep Boys Indy Racing League, was searching for a ride in the 1998 Indianapolis 500. Paul said earlier he was waiting for the best ride to become available.
The package came together this morning at the Indianapolis Motor Speedway. John Paul Jr. announced he will replace Danny Ongais in the #81 Team Pelfrey Dallara/G-Force.
Danny Ongais was released from the hospital late Tuesday. He will not be cleared to drive in the 1998 Indianapolis 500. Ongais was hospitalized Monday afternoon in good condition after suffering a slight concussion in an accident at the Speedway.
John Paul Jr. has participated in six Indianapolis 500 mile races. Paul suffered several injuries in a practice accident on the seventh day of practice for the 1997 Indy 500.
Editors Note: The images displayed in this article are available for larger viewing in The Racing Image Galleries and The Visions of Speed Art Gallery
.