---
Indy 500: The Race for the Pep Boys Million
13 May 1998
INDIANAPOLIS:
As pole day nears, drivers and teams in the Pep Boys Indy Racing League will be racing for more than the honor of taking the pole and being first at the finish line come May 24. They will also be racing for one of racing's largest cash prizes---The Pep Boys Million.
At the conclusion of the 11-race Pep Boys Indy Racing League schedule, the leading driver in the points race and his team owner will share the Pep Boys Million, with $500,000 to the driver and $500,000 to the team owner. The awards will be presented at a dinner in Indianapolis at the conclusion of the season, following the final race at the Las Vegas Motor Speedway on October 11.
"The Pep Boys Million is symbolic of the partnership between the Pep Boys Indy Racing League, which is the fastest-growing major motorsports circuit, and Pep Boys, which has grown at a phenomenal rate to more than 710 stores in the U.S. and Puerto Rico," says Bob Billings, vice president of advertising and marketing for Pep Boys. "Both of our organizations have a long and honored history in the United States. And we both have a common interest in automobiles and driving."
Scott Sharp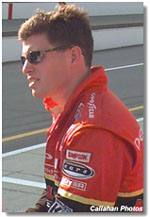 Scott Sharp and Buzz Calkins shared in the first IRL championship, while Tony Stewart was the 1997 champion. Under the sponsorship of the Indy Racing League, the Indianapolis 500 was won by Buddy Lazier in 1996 and Arie Luyendyk in 1997, marking Luyendyk's second win at the Brickyard. Nine different drivers won races in the 1996-1997 season, ;making the Pep Boys Indy Racing League one of the most competitive series in existence.
In addition to the Brickyard, Pep Boys Indy Racing League races are also contested at Phoenix International Raceway, Texas Motor Speedway, Pikes Peak International Raceway, Charlotte Motor Speedway, Dover Downs International Speedway, New Hampshire International Speedway, Atlanta Motor Speedway and the Las Vegas Motor Speedway.
Editors Note: The images displayed in this article are available for larger viewing in The Racing Image Galleries and The Visions of Speed Art Gallery
.