---
The Callahan Report: Stewart Fastest at Indy....Again
12 May 1998
INDIANAPOLIS:
Practice for the Pep Boys Indy Racing League Indy 500 open promptly at 11:00 a.m. this morning. It was a busy day without incident until very late in the afternoon.
At 5:20 p.m., Danny Drinan, a veteran sprint and midget driver, lost control of his D.B. Mann G- Force/Aurora heading into turn one. He spun 180 degrees and then hit the outside short-chute wall. The car went airborne briefly and then came to a rest in the grass at the entrance of turn two.
Drinan unbuckled and got out of the car under his own power. He made the mandatory trip to the Hannah Medical Center for a check up. He was released uninjured.
Tony Stewart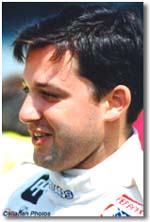 The speeds picked up after the cleanup for Drinan's accident. Tony Stewart set the quick time for the second day in a row. At 5:46 p.m., Stewart toured the Speedway with a top lap of 223.691 mph.
Stewart said, "It was a combination of heat and wind today that kept the speed down today. If it keeps warming up you won't see the speeds go up a tremendous amount. No one has figured out all the secrets yet. You have to dial the car in according to the conditions."
"I don't get to excited about practice," said Stewart. "I didn't gain any points today. It could all change tomorrow, so I'm not going to get excited till Saturday. There could be a 3 mph difference (between today's speed and Saturday's pole speed) depending on the weather. I don't care if we only run 200 mph as long as it is good enough to get the pole."
Stewart concluded, "I felt better in the Dallara than I do in the G-Force. We will take one of each and see how they feel the rest of the season."
Greg Ray lost his sponsor yesterday, but made some noise today. He practiced in his now un- sponsored racer at 219.592 mph. It was good enough for the fifth fastest speed of the day.
Ray commented on run today saying, "We were here testing here a month ago. We kept working on horsepower. We have all the vibrations out of the car. We only did three laps today and did a 219 (mph). If we had run a few more laps, we could have ran a 221 mph."
About his sponsor woes, Ray said, "We were looking forward to doing really well. Everything was going fine early in the week. We had already geared ourselves to getting their (our lost sponsor) financial support but this makes it real hard. I know we have a great race car and it is handling well. These cars have a big appetite for money, unfortunately."
Ray said he should be able to get through the month of May with the help of a cosmetic company (he refused to name) in the Indianapolis area. Ray is looking for sponsorship money to finish the season. Ray has done very well in the races he has run. He will be a bargain for a sponsor who is looking to racing as an advertising venue.
The Indianapolis Motor Speedway is open for practice from 11:00 a.m to 6:00 p.m. daily through May 15. Qualifying for the Indy 500 will be held on Saturday and Sunday, May 16-17. Drivers hoping for a shot at the pole position must qualify on Saturday.
Top Speeds of the Day: (as of 5:30 p.m.)
1. Tony Stewart (Car No. 1), 223.691 mph
2. Kenny Brack (Car No. 14T), 221.593 mph
3. Scott Sharp (Car No. 8), 220.092 mph
4. Billy Boat (Car No. 11), 220.060 mph
5. Greg Ray (Car No. 97), 219.952 mph
Other Notes:
Danny Ongais, who crashed during practice yesterday (May 11, 1998) will miss the 1998 Indy 500. Dr. Henry Bock, the Speedway medical director said Ongais remains in Methodist Hospital after suffering a slight concussion during an accident Monday afternoon at the Indianapolis Motor Speedway.
Ongais crashed just before 5:00 p.m. which is traditionally know as "happy hour". The speeds rise late in the day as the shadows cover parts of the race track.
Editors Note: The images displayed in this article are available for larger viewing in The Racing Image Galleries and The Visions of Speed Art Gallery
.