---
The Callahan Report: CART Preview; Fed Ex Delivers a Fast Product
7 May 1998
RIO DE JANEIRO, BRAZIL:
Federal Express is in the shipping business. This weekend, they will be shipping the motorsports leg of their company to sunny Brazil. Don't try to get a tracking number because the merchandise will be moving too fast to track.
Mauricio Gugelmin

This will be the third time the CART Fed Ex Championship Series has preformed at the Emerson Fittipaldi Speedway at Nelson Piquet International Raceway. The 1.864-mile D-shaped oval always provides a multitude of excitement for the Brazilian racing fans. There may not be as many fans at the track this year due to the fact that Mother's day is celebrated more religiously in Brazil than in the United States. Last year there were over 75,000 fans in attendance.
The race in Brazil is an appropriate stop on the CART championship circuit. Six of the 29 drivers entered in the race are natives of this South American country. Those natives have proven that there are benefits to having a home crowd. Last year, Mauricio Gugelmin and Roberto Moreno, both from Brazil, occupied the front row for the race. The crowd showed emotion for their countrymen that was similar to cheers observed only at Daytona and Indy. Racing is THE sport in Brazil.
The track requires the drivers to use many skills. They will run at speeds of 200 mph down the straightaways and then downshift three times to a snake's pace of 100 mph entering the turns. The drivers who can master super-speedways AND road courses will shine.
Who will do well in Brazil? Tough question. The Player's/Indeck Reynard Mercedes driven by Greg Moore could be the biggest threat on Sunday. Moore is becoming a master on any circuit he faces. He finished second here last year after starting eighth. Moore could be ready to move last year's finish up a notch in Brazil.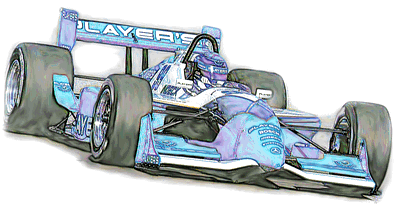 Greg Moore favored in Brazil
Bryan Herta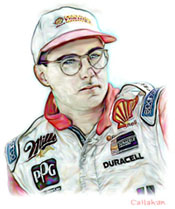 Bryan Herta, driving for Team Rahal in the Shell Sponsored Reynard should also do well in Brazil. Herta continues to inch his way to a victory. After having wins snatched away in his home country of the United State in the last two seasons by Alex Zanardi, Herta's first CART victory could come on foreign soil. The race fans in Brazil follow the series very closely. A Herta win in Brazil would be a popular one. Herta started fourth and finished sixth here last season.
Standing in Herta's way again will be the powerful and popular Alex Zanardi. The Chip Ganassi Target Racing team is fierce. The team notched their first ever one-two finish on a short oval in the last outing at Nazareth. Zanardi knows how to fly on this Brazilian circuit. He proved it last year. He started from deep in the field (26th) and charged to a fourth place finish. The team continues to get stronger as the season progresses. Zanardi could be unstoppable at this "driver's track."
Paul Tracy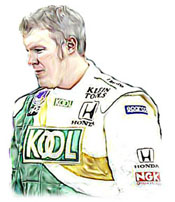 Paul Tracy inherited the victory in Brazil last year after Bobby Rahal tried to stretch his fuel mileage a bit too far. Tracy was driving for Penske last season when he grabbed that victory. Driving for Team Kool/Greene this season, Tracy should be a top five contender. With some racing luck, he could be a back-to-back winner in Brazil.
The Pac-West team has struggled this season after finding great success just a year ago. There has to be good luck on the horizon. The darkhorse pick for Brazil has to be one of Brazil's favorite sons. Mauricio "Big Mo" Gugelmin knows the fast way around this track. His pole run last year is a testament to his driving skills. Gugelmin could finally break the Pac West bad luck and pull into victory lane this Sunday.
Although the race starts at 11:00 a.m. Eastern time this Sunday, the television audience will not view the race until 3:30 p.m on a tape delay basis. ABC television will provide the race coverage.
Callahan's Picks for Brazil:
1. Greg Moore
2. Bryan Herta
3. Alex Zanardi
4. Paul Tracy
5. Bobby Rahal
Darkhorse: Mauricio Gugelmin
Callahan's Picks Last Race:
1. Paul Tracy (finished 5th)
2. Michael Andretti (finished 18th, crashed)
3. Al Unser, Jr. (finished 15th, never a threat)
4. Adrian Fernandez (finished last, crashed on lap 1)
5. Bryan Herta (finished 8th)
Darkhorse: Jimmy Vasser (finished 1st)
Agree or disagree? Send you comments to Terry Callahan at The Auto Channel.
Official Entry List for Brazil:

No  Driver (Country)                Car

 1  Alex Zanardi (Italy)            Target Reynard Honda
 2  Al Unser, Jr. (USA)             98 Marlboro Penske Mercedes
 3  Andre Ribeiro (Brazil)          98 Marlboro Penske Mercedes
 5  Gil de Ferran (Brazil)          Valvoline/Cummins Special
 6  Michael Andretti (USA)          Kmart/Texaco/Havoline
 7  Bobby Rahal (USA)               Miller Lite
 8  Bryan Herta (USA)               Shell
 9  J.J. Lehto (Finland)            Hogan Motor Leasing, Inc.
10  Richie Hearn (USA)              Budweiser/Ralphs Swift Ford
11  Christian Fittipaldi (Brazil)   Kmart
12  Jimmy Vasser (USA)              Target Reynard Honda
15  Mimmo Schiattarella (Italy)     Hawaiian Tropic
16  Helio Castro-Neves (Brazil)     Alumax Aluminum
17  Mauricio Gugelmin (Brazil)       Hollywood PacWest Mercedes
18  Mark Blundell (England)         Motorola PacWest Mercedes
19  Michel Jourdain, Jr. (Mexico)   Herdez/Viva Mexico
20  Scott Pruett (USA)              Visteon
21  Tony Kanaan (Brazil)            LCI Reynard Honda
24  Robby Gordon (USA)              Panasonic-Duskin-Reynard-Toyota
25  Max Papis (Italy)               MCI Racing Reynard-Toyota
26  Paul Tracy (Canada)             KOOL
27  Dario Franchitti (Scotland)     KOOL
33  Patrick Carpentier (Canada)     Player's/Indeck
34  Dennis Vitolo (USA)             SmithKline Beecham
36  Alex Barron (USA)               Castrol-Degree-Toyota Reynard
40  Adrian Fernandez (Mexico)       Tecate/Quaker State/Labatt
77  Arnd Meier (Germany)            BAAN Business Software/Total Tel
98  P.J. Jones (USA)                Castrol-Degree-Toyota Reynard
99  Greg Moore (Canada)             Player's/Indeck

Editors Note: The images displayed in this article (plus many more) can be viewed in The Racing Image Galleries and the Visions of Speed Art Gallery.