---
NASCAR-WCUP: Square D Racing Review/Preview
6 May 1998
Kenny Wallace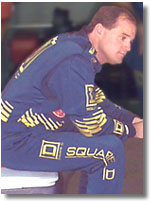 HARRISBURG, N.C.
- After struggling all weekend to locate the proper balance between engine and chassis, Square D Ford driver Kenny Wallace brought the No. 81 Taurus home to a 19th place finish at the California 500 in Fontana. Wallace started the race in the 34th slot, and with the help of his crew, methodically worked his way into the top-20 by the end of the race.
"It was a rough weekend for us," said Wallace. "We missed on our qualifying setup and on our race setup. We're going to test at Michigan (May 11-12), so hopefully we'll be able to make up some ground on these types of tracks. A 19th place finish isn't good, but it isn't bad either."
Just as the Bud Shootout kicks off Daytona's Speedweeks at Daytona (Fla.) International Speedway, Charlotte (N.C.) Motor Speedway's running of The Winston Open and The Winston readies race fans for the culmination of its speedweeks - the Coca-Cola 600.
For Square D Ford driver Kenny Wallace, competing in The Winston Open means not only racing to earn a grid position for The Winston, but it also means garnering some valuable seat time at the 1.5-mile oval in preparation for the Coca-Cola 600.
"It's good training," said Wallace. "Anyone that doesn't run The Winston Open is giving themselves up for a good run in the Coke 600. Essentially, The Winston Open gives us two test days. We learn to qualify in the late afternoon and race at night - the same things we'll be doing for the 600. It's an exhibition race, so we can try a different chassis setup or I can take a different line going into the corner because there's not as much on the table. In a regular point race, you can't always take those chances. You can't afford to lose points with a bad finish because some of the things you were experimenting with didn't work out."
Kenny Wallace's The Winston Open/The Winston Performance Profile

Year              Event        Start    Finish  Status/Laps     Earnings
1997    The Winston Open           23     23           Running/50
$2,200
1996    The Winston Open           13     11           Running/50
$6,100
1993    The Winston Open           17     22           Running/50
$2,300
1991    *The Winston               17     17           Running/69
$18,000
1990    The Winston Open           24     17           Running/133
$3,500

* Wallace's only appearance in The Winston came when he drove a Felix Sabates- owned Pontiac while substituting for an injured Kyle Petty.
Editors Note: The images displayed in this article (plus many more) can be viewed in the Visions of Speed Art Gallery and the Racing Image Galleries.