---
NASCAR-WCUP: Waltrip On The Winston; New Helmet & Elvis
6 May 1998
Darrell Waltirp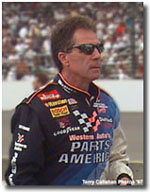 Seconds after #1 Pennzoil Monte Carlo driver Darrell Waltrip took the checkered flag for the inaugural Winston in 1985 the three-time Winston Cup champion's engine exploded sending debris all over the Charlotte Motor Speedway surface and writing the first chapter in what has become a full book of exciting, controversial and surprising moments in the NASCAR Winston Cup Series all-star event. Waltrip returns to the Winston this year only days after his fifth place finish at California Speedway where the 51-year-old Waltrip proved his skills as a driver remain.
When Waltrip takes the green flag for the Winston, he won't be wearing the chrome helmet he has sported since 1995. Instead, Waltrip will switch to a Pennzoil yellow and black helmet for the race. Waltrip said he's making the switch to see if the chrome in the helmet is the culprit for radio interference he has experienced with his Dale Earnhardt Inc. team in recent weeks. Waltrip planned to use the helmet in California, but it couldn't be ready in time for the race. In addition to losing the chrome helmet, Waltrip will lose the Elvis-like firesuit he wore at last year's Winston.
Do You Like The Winston?
"I'm a purist. I'm a traditionalist. You drop the green flag then you drop checkered flag and that's the race. None of this hanky panky, hokey pokey, run 10 laps then wait or run ten laps and invert the field. I got my panties all in a wad when they started doing that. Then I realized that this was all for the fans. This is taking racing to the next level. This is a show. With that in mind, I always try to go over there and have a good time. I call it a Funfest. Go over and have some fun and hope nobody will try to steal it from you."
Why Do Fans Like The Winston?
"This is one of those races that is intriguing to think about. When you think about the Winston you always wonder what is it going to be like this year. Every year it has its moments. Every year something happens that makes that Winston different from the rest. Somebody wrecks somebody, something unusual happens, somebody that you don't expect to win wins, you just never know what is going to happen in that race."
Will Your Team Do Anything Special For The Winston?
"Guys do all kind of things for the race like trick motors, but I don't mean illegal motors. I mean hot rod or drag motors or some guys even put in motors that blow up when the checkered flag drops. Although, I don't know anyone who has ever done that intentionally."
What Is The Driver's Strategy In The Winston
"You are working in a very narrow time window. You have very few laps to get the job done. You can't be patient. You can't wait. You have to gas it up and go and if a guy gives you any semblance of an opening you got to take it even though you know it might be close or even too close. You don't have the time to wait. Whatever happens, happens."
No Points Awarded In The Winston:
"There are no points just money. It changes the way you race. If points were rewarded for the Winston then you might race a little differently and be a bit more conservative. But at the Winston you just take out the sharpest knife you have in the drawer and go for it."
Your 5th Place Finish at California:
"There 's still some fire in the old belly, and I'm with a crowd that wants to win. This Pennzoil bunch believes in me and I believe in them. I haven't been in a situation like this since my days with Junior Johnson. "
Was California A Vindication?
"I told the crew as soon as I took the checkered flag that the secret to life is hard work and perseverance. I have been through a lot in the last year. I know people have questioned me and my abilities. But, I have never questioned myself. I have what it takes to drive a racecar and you saw that in California. This team has what it takes to be a winner. They have had some hard times this year and a lot of bad luck with Steve getting hurt and then we've been in just about every crash and none of them were our fault. But, hard work and perseverance has got both of us through all this. I can't tell you how good this makes me feel."
Dale Earnhardt "Dale Earnhardt gave me a lot of confidence. He called me and said, 'I want you to drive the Pennzoil Monte Carlo because I know you can win in it.' That meant a lot. It doesn't get any better than this."
Why The Helmet Switch:
"I guess my chrome helmet has made the ozone mad or something.
"Ever since I started using the chrome helmets our teams have had an unusual amount of radio problems. We think it might have something to do with the chrome and the car's ignitions. What I have found out is that the chrome helmet causes the ignition to be picked up in the radios. The car's ignition systems are right next to the driver so you can change them quickly.
"Bill Simpson told me that Michael Andretti has run an all-chrome helmet in CART and had the same problems. This weekend will be a test. I'm going to run a helmet painted in Pennzoil's colors of yellow and black to see if the radio problems are really in the helmet or if the problems are just in the driver's head."
What Are Your Fashion Plans For This Year's Winston?
"Well, I ain't coming back as Elvis, I can tell you that."
Editors Note: The images displayed in this article (plus many more) can be viewed in The Racing Image Galleries and the Visions of Speed Art Gallery.