---
NASCAR-WCUP: Waltrip's Fifth-Place Finish Shows "Fire In The Belly" Once Again
4 May 1998
Darrell Waltrip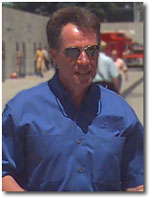 (Fontana, Calif.)
- Take a first-year organization with an injured primary driver, add a replacement driver accused by skeptics of being over the hill, then go visit a track for the first time. All the ingredients for a miserable weekend in the NASCAR Winston Cup Series right?
Wrong. What took place Sunday afternoon on the 2-mile, D-shaped California Motor Speedway oval is one of the best motorsports stories of 1998.
Dale Earnhardt Inc. showed it wasn't too new to the Winston Cup Scene to post a top finish and Waltrip showed he still has the "fire in the belly" that propelled a Hall of Fame Career for the last three decades.
The combination of new team and veteran driver posted a fifth-place finish in Sunday's NAPA 500 in a stirring race that woke up the echoes of performances posted by the man NASCAR voted its best driver in the 1980s and a team that should dramatically impact the sport in the 1990s and beyond.
"You cannot imagine all that I have been through this year and then for this to happen today is hard for even someone like me to put into words," a jubilant Waltrip told a throng of media gathered around the Pennzoil Monte Carlo. "I knew this team could win, and you saw today just how close we are. These guys believe in me and I believe in them and you can't underestimate how important that is."
Waltrip appeared on nationally television minutes after the race and received a standing ovation from spectators near the set.
"There's still some fire in the old belly, and I'm with a crowd that wants to win. They believe in me and I believe in them," Waltrip exclaimed.
As Waltrip took the checkered flag he told his crew over the team radio: "Perseverance and hard work, that will always pay off and that's the secret to everything."
This year has been a lesson on perseverance and hard work for both Waltrip and his Dale Earnhardt Inc. team.
Waltrip began the year with his team, but sponsor problems forced him to sell the #17 to Texas jet salesman T.J. Beverley. At that time Beverley decided to suspend operation in an effort to reorganize the team. At the same time, Dale Earnhardt Inc. needed a replacement driver for Steve Park who broke his femur, collarbone, and shoulder blade in a March 6 practice crash at Atlanta.
Earnhardt Inc. asked Waltrip to fill in until Park's return expected in August. Since climbing in the Pennzoil Monte Carlo Waltrip's qualifying efforts have drastically improved. Waltrip has yet to use a provisional in a DEI car. Some bad luck in races prevented the team and rejuvenated driver from showing their true colors. But that ended Sunday.
"Dale Earnhardt gave me a lot of confidence. He called me and said, 'I want you to drive this car because I know you can win in this car.' That meant a lot to me. It doesn't get better than this. I have never been in a situation like this in my life, not since the Junior Johnson days."
Right from the start on Sunday Waltrip showed that this day wasn't going to be for the faint of heart. He dove low making it three abreast on lap two and ran in the top 10 to 15 cars throughout the day. Waltrip and Crew Chief Philippe Lopez often opted for four-tire stops while others leapfrogged over them taking on two tires instead. Waltrip knew the four-tire stops would pay off over the long runs.
"Let's just run our race and not worry about what everyone else is doing," Waltrip told the crew.
As the race progressed, that strategy began paying dividends. Waltrip marched through the field under long green flag runs. In the closing laps he battled and beat his boss Dale Earnhardt as well as Chad Little, Geoff Bodine and others as he posted his first top five finish since Sonoma in 1997 -- his 276th top-five finish and 389th top-ten finish of his historic career.
Mark Martin won the race and was followed across the line by Jeremy Mayfield and Terry Labonte.
Waltrip knew his day would be good.
"When we were back there worrying about how far we could go on fuel, worrying if we could make it on that last pit window, and we had to come back in and top off and make sure we could make it on one more stop, I said then that if we could pull out a top 10, that would be about all we could hope for at that point. With the cautions and people having trouble and what not, I started to see top five. I started smelling it."
Waltrip not only smelled the top finish, but savored it as well. And after the race, Waltrip enjoyed a little more good news. The 12-and-under girls AAU basketball team called the Darrell Waltrip Motorsports Gaters of Greensboro, N.C. won the North Carolina state championship on Sunday.
"That's the best money I've ever spent."
The Pennzoil Monte Carlo returns to the track in two weeks at Charlotte for the Winston.