---
The Callahan Report: Mark Martin Favored in the West
30 April 1998
FONTANA, CA:
It's the gold rush of 1998. The NASCAR teams are heading West this weekend. They have already struck it rich. Their weekly shows are the fastest growing spectator sport in the world. Their sport is truly "golden." This weekend will be a marketing extravaganza as NASCAR "goes Hollywood" on Saturday night. They will follow their Hollywood celebration with a high speed show at the year-old California Speedway in nearby Fontana, California.
The series is coming off a weekend of high speed "restrictor plate" racing in Talladega, Alabama. The race this weekend will be of the traditional horsepower variety. The Ford Taurus will most likely shine once again at this sparkling new facility owned by Roger Penske.
There are several prospective candidates to lead the way in Fontana. At the top of the favorite's list is Mark Martin. The Valvoline Ford Taurus colors were scarred a bit last weekend in Talladega. They will shine bright in the California sun. Martin has already captured two victories this season...both races were West of the Mississippi. With his bad luck from last weekend out of the way, Martin will be powering his way to the front of the pack this weekend.
Mark Martin
Another Ford Driver who will be in the front is Dale Jarrett. Driving the Robert Yates Racing Ford Quality Care/Credit Taurus, Jarrett has it all together. He suffered some bad luck as the season opened, but has made a complete turnaround. Coming off a third place finish from the crash festival this past weekend, Jarrett will continue his momentum by challenging for the top spot in Fontana. Jarrett finished eighth in Fontana's opening race last season.
Dale Jarrett

Another Ford driver who will use momentum to carry him to the top of the heap this weekend is Jimmy Spencer. He proved last year that he can race at this fast track. Spencer, who finished a close second to Bobby Labonte last weekend, came home in fifth place at Roger Penske's California Speedway a year ago. The Winston-sponsored Ford is ready to make a trip to victory lane. It could be this weekend.
It is time for Jeff Burton to have some good luck. Burton has had none in his last three outings on the circuit. He is always fast. He is part of the Roush Racing Super Team. As a teammate to Mark Martin, Burton should challenge his teammate for the checkered flag.
As always, the power team of Rusty Wallace and Jeremy Mayfield will be strong. This team has it all together. Either driver is capable of finding victory. If they fall behind, they have a knack of returning to the front of the pack. Just as they have been in every NASCAR race this season, Wallace and Mayfield will be threats in Fontana.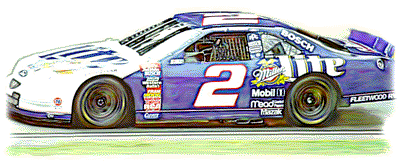 Rusty Wallace: Winston Cup Point Leader
Jeff Gordon was the winner of the inaugural Californian 500 last year. He has seen the checkered flag first on two occasions already this season. If it were not for a bit of impatience last weekend in Talladega, Gordon could have had his third win of the season. With the coaching of Ray Evernham, Gordon will drive a smarter race this time around. Gordon heads the Chevrolet contingent and could be the first ever two time California 500 champion.

Jeff Gordon: Defending Winston Cup Champ
Who has the outside chance of winning at this Michigan International Speedway look-a-like track? The surf is up. Ricky Rudd could take the "Tide Ride" to the top spot. He has won at least one race in each of the last 15 years. Based on Rudd's performance here last year, he has proven that he knows how to run fast at Fontana. He is a master at fuel conservation. If this becomes a fuel economy race, Ricky Rudd could keep the victory string alive again in 1998. Rudd started 39th here last year. He finished third.
Callahan's Picks
1. Mark Martin
2. Dale Jarrett
3. Jimmy Spencer
4. Jeff Burton
5. Jeremy Mayfield
Darkhorse: Ricky Rudd
Callahan's Results From Last Week's Picks:
1. Dale Earnhardt (finished 36th, crashed)
2. Bobby Labonte (finished 1st)
3. Jeremy Mayfield (finished 13th)
4. Rusty Wallace (finished 12th)
5. Jeff Gordon (finished 5th
Agree or disagree? Send you comments to Terry Callahan at The Auto Channel.....
Darkhorse: Jimmy Spencer, (finished 2nd)
Editors Note: The images displayed in this article (plus many more) can be viewed in The Racing Image Galleries and the Visions of Speed Art Gallery.