---
The Callahan Report: CART... Jimmy Vasser Wins at Nazareth
27 April 1998
Jimmy Vasser

NAZARETH, PA:
Jimmy Vasser, the 1996 Fed Ex Championship Series driving champion, won the sixth race of his career at the Nazareth Speedway. Vasser beat his teammate, Alex Zanardi, by 1.4 seconds in a crash filled Bosch Spark Plug Grand Prix. The race was delayed one day due to rains in the Nazareth area yesterday.
The Nazareth Speedway is described as a "bull ring" short oval. Drivers racing on these "bull rings" are in constant traffic. Until today, the successful Target Chip Ganassi Race Team had never won on a short oval.
Vasser used a two-pit-stop-strategy to win. Vasser took the lead on the 194 lap when Greg Moore of Canada made his third and final pit stop of the race. Zanardi also made three pit stops. He pitted three laps earlier than Moore. Zanardi was the leader before making his final stop.
The race was slowed by seven caution periods. A total of 78 out of the 225 laps were ran under the yellow flag. Many of the accidents were blamed on cold tires. Temperatures were in the low forties at the beginning of the race. Vasser's average speed was 108.839 mph.
The Pac-West racing team suffered the biggest losses of the day. Both Pac-West drivers destroyed their 1998 Reynard Mercedes cars. Mark Blundell and Mauricio Gugelmin were taken to the hospital for precautionary x-rays and CAT scans. They both were in separate single car accidents.
Gil de Ferran, driving a Reynard Honda finished in fourth place behind the Reynard Mercedes of Moore. Pre race favorite, Paul Tracy, finished in fifth place.
Robby Gordon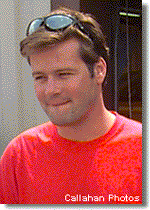 Robby Godon made his return to open wheel racing at Nazareth. Gordon gave Toyota its highest finish ever in the CART series. Gordon finished seventh in his Reynard Toyota. Hiro Matsushita will return the the cockpit one last time in Brazil. Gordon will take the wheel for the remainder of the season after Matsushita's farewell drive in Brazil. The door for the points race was opened early. Adrian Fernandez, who was leading the Fed Ex points before the race, crashed on the opening lap. It was a preview of the things to come as the rubber from the tires simply would not adhere to the racing surface.
Michael Andretti, who controlled much of the first half of the race, crashed on one of the restarts. The rear of Andretti's car broke loose under acceleration.
A reduced crowd of approximately 25,000 was on hand to witness the rain-delayed race. It was the first time in 12 years that a CART event was rescheduled due to rain.
Results of the CART Fed Ex Championship Series Bosch Spark Plug Grand Prix follows with finishing position, (starting position), driver, hometown/country, chassis/engine, laps completed and reason out (if any):
1. (5) Jimmy Vasser, Las Vegas, Nev., Reynard-Honda, 225.
2. (8) Alex Zanardi, Italy, Reynard-Honda, 225.
3. (2) Greg Moore, Canada, Reynard-Mercedes, 225.
4. (4) Gil de Ferran, Brazil, Reynard-Honda, 225.
5. (10) Paul Tracy, Canada, Reynard-Honda, 225.
6. (9) Bobby Rahal, New Albany, Ohio, Reynard-Ford, 225.
7. (24) Robby Gordon, Cerritos, Calif., Reynard-Toyota, 225.
8. (7) Bryan Herta, New Albany, Ohio, Reynard-Ford, 224.
9. (16) Tony Kanaan, Brazil, Reynard-Honda, 224.
10. (13) Richie Hearn, Henderson, Nev., Swift-Ford, 224.
11. (6) Christian Fittipaldi, Brazil, 224.
12. (23) Michel Jourdain Jr., Mexico, Reynard-Ford, 223.
13. (1) Patrick Carpentier, Canada, Reynard-Mercedes, 222.
14. (20) Max Papis, Italy, Reynard-Toyota, 221.
15. (18) Al Unser Jr., Albuquerque, N.M., Penske-Mercedes, 220.
16. (15) J.J. Lehto, Finland, Reynard-Mercedes, 218.
17. (14) Mauricio Gugelmin, Brazil, Reynard-Mercedes, 206, accident.
18. (3) Michael Andretti, Nazareth, Pa., Swift-Ford, 122, accident.
19. (25) P.J. Jones, Rolling Hills, Calif., Reynard-Toyota, 107, brakes.
20. (21) Mark Blundell, England, Reynard-Mercedes, 107, accident.
21. (17) Dario Franchitti, Scotland, Reynard-Honda, 80, accident.
22. (12) Scott Pruett, Crystal Bay, Nev., Reynard-Ford, 68, fire.
23. (19) Helio Castro-Neves, Brazil, Reynard-Mercedes, 62, accident.
24. (26) Arnd Meier, Germany, Lola-Ford, 28, transmission.
25. (22) Dennis Vitolo, Massapequa., N.Y., Reynard-Ford, 10, accident.
26. (11) Adrian Fernandez, Mexico, Reynard-Ford, 0, accident.
Editors Note: The images displayed in this article (plus many more) can be viewed in the Visions of Speed Art Gallery and the Racing Image Galleries.