---
The Callahan Report: Bobby Labonte Survives the Dangers of Restrictor Plate Racing
26 April 1998
Bobby Labonte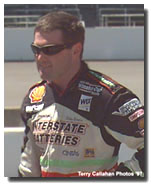 TALLADEGA, AL:
Survival is a term reserved for dangerous environments. It is a term that fits the Talladega Super Speedway perfectly. Bobby Labonte survived the melee of a race stopping crash on lap 141 of the DieHard 500. He also survived a last lap challenge from Jimmy Spencer to grab Pontiac's first victory ever in restrictor plate racing.
Labonte commented, "I felt like once I got up front, I could stay there. When you get a chance, you've got to hit it right."
Spencer proved to be a worthy warrior as he also survived the intense battle. After starting the race deep in the pack, Spencer was challenging Labonte for the win on the final lap. Labonte and Spencer teamed up at the last "restrictor plate" race (Daytona) to move through the field. They used that same strategy at Talladega and were rewarded with a one-two finish.
Dale Jarrett

Dale Jarrett helped his championship hopes by finishing third. Jarrett dropped well into oblivion early in the race. He was patient and regained his composure. He picked off the competitors steadily throughout the race. When it was time to go racing, Jarrett was in a position to win. The most important thing about Jarrett's third place finish is that everyone he was chasing for the series championship finished behind him. He was able to move to third in the Winston Cup points.
It was almost a family affair at the end. Terry Labonte, Bobby's older brother, led the most laps in the race. He appeared to be poised for victory until Spencer and the younger Labonte teamed up to move to the front with a handful of laps to go. Terry Labonte finished fourth.
It doesn't happen often, but the defending Winston Cup champion made a mistake. Jeff Gordon was in a position to win the DieHard 500 with less than ten laps remaining. He got impatient. Gordon was running in second place behind his teammate, Terry Labonte. Gordon made a move for the lead but could not get anyone to tuck in behind him. To win at Talladega, you must have a drafting partner. Gordon was passed by all the cars in the lead draft quickly. So quickly . . . he lost the much needed draft of the lead pack. Gordon finished in fifth . . . well behind the lead cars of Bobby Labonte, Jimmy Spencer, Dale Jarrett, and Terry Labonte.

Jeff Gordon
There were drivers who did not survive the obstacles this track has to offer. Sure, they survived in the sense that they will race again next week, but they could not survive long enough to see Talladega's checkered flag.
On lap 141 of the DieHard 500 . . . all hell broke loose. Ward Burton was running well with the leaders. His car bobbled a bit, sending him onto the track apron briefly. When he shot back onto the racing surface, he tapped the left rear quarter panel of Dale Earnhardt. The race was getting ready to go from a blur to a standstill.
Earnhardt's rear end slid out to the right. When it did, his front bumper tapped Bill Elliott in the left rear. Elliott was a passenger in a 3400-pound sled headed straight for the hard outside wall. When he hit the concrete at more than 180 mph, his car erupted into flames and tipped on its side. Earnhardt's car was locked with Elliott's for the long, violent skid down the asphalt.
A wall of tire smoke covered the track. The airwaves filled up with expletives from the drivers preparing to drive blindly into the cloud. When the cloud of smoke dissipated, the track was covered with broken race cars, metal, fluids, rubber, and a large amount of wounded spirits. In all, twenty cars were involved in the crash. They had not "survived" Talladega.
Dale Earnhardt

Earnhardt said lightheartedly, "Just about the same thing happened to Elliott that happened to me here in '96. It was a big wreck. The fire came off Elliott's car and singed my hair and burned my mustache a little bit."
Elliott refused to be placed on the stretcher which was offered to him. He grimaced in pain and stumbled to the ambulance. Doctors said he had the wind knocked out of him. Elliott left the track to return home to Dawsonville, Georgia. His personal physician will treat him for any injuries he received in the incident.
After a 27 minute cleanup, the race cars started up again. The crash had eliminated much of the competition. On the restart, there were only 15 cars on the lead lap. Two of those were severely damaged and would not be contenders.
Restrictor plate racing was started several years ago as a means of slowing the Winston Cup cars. Essentially, the flow of gas is restricted by inserting a plate into the carburetor. While it has achieved that goal of reducing the speeds, it has also been the key ingredient for some of the most spectacular crashes in NASCAR's 50 year history. Drivers must stay in close quarters at high speeds in order to remain competitive. They are forced to use "the draft" instead of horsepower. When trouble appears, drivers cannot "power away" from the accident. They must rely on brakes and luck. In an instant, twenty drivers ran out of luck at Talladega.
"You can talk about it all you want, it's not good racing,'' said Dale Earnhardt, expressing his opinions on the dangers of restrictor plate racing. "Our car was good today, but we can't keep racing like this, running over each other like this."
Rusty Wallace retained the Winston Cup point lead. He finished 12th this afternoon. He is 36 points ahead of Jeremy Mayfield, his teammate. Mayfield finished 13th at Talladega. Jarrett moved to within a point of Mayfield in third. Jeff Gordon dropped from third to fourth in the points, 73 behind.
NASCAR resumes racing with "horsepower" next weekend in Fontana, CA.
Editors Note: The images displayed in this article (plus many more) can be viewed in the Visions of Speed Art Gallery and the Racing Image Galleries.