---
Brazilian Racing News: Ingo Hoffman
24 April 1998
Ingo Hoffman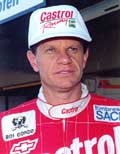 Brazilian driver Ingo Hoffmann, former F-1 driver, is racing in two series in 1998. Hoffmann is racing in Sudam Supertourism for BMW and in Brazilian Stock Cars for the Action Power Team.
Ingo will keep testing his car this thursday and friday for the Action Power Team in Curitiba, alongside team mate Xandi Negrão, preparing himself for the next round of the 1998 Stock Car Championship to be held in Interlagos at April 26th.
Ingo is also doing well in Sudam Supertourism. "This is a completely different kind of racing, as the car have much more electronical equipment than our Stock Cars" said Hoffmann that is currently 4th in the Sudam series and leading the Brazilian Stock Cars Championship.
Marc Zimmermann -- The Auto Channel