---
The Callahan Report: Paul Tracy Heads to Nazareth With Confidence
24 April 1998
Paul Tracy drove for Penske last season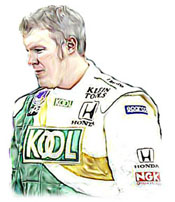 NAZARETH, PA:
The Fed-Ex CART Championship is getting ready for a four race oval segment. The first stop will be at Nazareth Speedway in Pennsylvania. It is a track that is very familiar to Team KOOL/Green driver Paul Tracy. That is a fact which has the competition worried.
Tracy has an estimated 20,000 laps of competition and practice experience at the short oval. While driving for Roger Penske, Tracy ran lap after lap during shakedowns of the famous PC (Penske Car) chassis. Tracy could probably drive around this short circuit in his sleep. Tracy's experience, coupled with the fact that he set another unofficial track record during testing this week, makes him the odds on favorite to win the Bosch Spark Plug Grand Prix this weekend in Nazareth. Tracy has won the past two races held at Nazareth.
Michael Andretti has a new look this season. Along with that new look comes a new attitude. Although his face is covered with hair this season, there is nothing hairy about Andretti's performance. The second generation racing superstar always performs well at Nazareth. He is a native of this small Pennsylvania community. The extra cheering from the local crowd has an effect on his performance.
Michael Andretti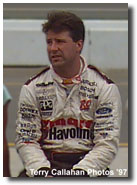 If it were not for a late race caution last year, Andretti would have been in victory lane instead of Tracy. Andretti was preparing to pass Tracy as the caution flag waved with two laps remaining in the race. Andretti had fallen a lap down and was running in 17th before making his charge to the front.
Andretti has already won this season. Andretti may be the only one to challenge Tracy for the victory at Nazareth. Short ovals suit Andretti's driving style. He said "Short ovals are just perfect for great racing. You're always in traffic, and there's always passing going on."
Adrian Fernandez has found new life this season. After winning in Japan and posting consistent high finishes, Fernandez is the early points leader. This track clearly belongs to Paul Tracy, but with some racing luck and a few breaks, the race victory could be inherited by front runner Fernandez.
After failing to visit victory lane in over two years, Al Unser Jr. is back with a vengeance. He was putting the pressure on Adrian Fernandez in Japan (another oval race) earlier this season. Time ran out causing the hungry veteran to finish second. Nazareth is a track where Unser Jr. has performed well in the past. Finally, with a competitive racing machine under him once again, Unser Jr. will be a threat to win a CART race. That long overdue victory could come this weekend.

Al Unser Jr.: Still searching for victory lane
Team Rahal has put all the ingredients together for success in 1998. Both drivers on the team, Bobby Rahal and Bryan Herta, are among the most competitive in the series. They both have been getting reasonable fuel mileage. If the Nazareth race comes down to fuel strategy, keep an eye on Rahal and Herta.
In the darkhorse category this week, Jimmy Vasser gets the nod. Vasser qualified well at the Japan oval. He won the pole there but he fell back during the race. Chip Ganassi/Target racing has had enough time to get the bugs worked out. Vasser could and should be a threat for a podium finish at Nazareth. Vasser finished fifth here last year.
The 12th annual Bosch Spark Plug Grand Prix gets underway this Sunday afternoon, April 26, at 12:30 p.m. (et). The race will be broadcast live on ESPN television.
Callahan's Picks for Nazareth:
1. Paul Tracy
2. Michael Andretti
3. Al Unser, Jr.
4. Adrian Fernandez
5. Bryan Herta
Darkhorse: Jimmy Vasser
Entry List for the Bosch Spark Plug Grand Prix:

No  Driver (Country)                Car

 1  Alex Zanardi (Italy)            Target Reynard Honda
 2  Al Unser, Jr. (USA)             98 Marlboro Penske Mercedes
 3  Andre Ribeiro (Brazil)          98 Marlboro Penske Mercedes
 5  Gil de Ferran (Brazil)          Valvoline/Cummins Special
 6  Michael Andretti (USA)          Kmart/Texaco/Havoline
 7  Bobby Rahal (USA)               Miller Lite
 8  Bryan Herta (USA)               Shell
 9  J.J. Lehto (Finland)            Hogan Motor Leasing, Inc.
10  Richie Hearn (USA)              Budweiser/Ralphs Swift Ford
11  Christian Fittipaldi (Brazil)   Kmart
12  Jimmy Vasser (USA)              Target Reynard Honda
15  Mimmo Schiattarella (Italy)     Hawaiian Tropic
16  Helio Castro-Neves (Brazil)     Alumax Aluminum
17  Mauricio Gugelmin (Brazil)      Hollywood PacWest Mercedes
18  Mark Blundell (England)         Motorola PacWest Mercedes
19  Michel Jourdain, Jr. (Mexico)   Herdez/Viva Mexico
20  Scott Pruett (USA)              Visteon
21  Tony Kanaan (Brazil)            LCI Reynard Honda
24  Robby Gordon (USA)              Panasonic-Duskin-Reynard-Toyota
25  Max Papis (Italy)               MCI Racing Reynard-Toyota
26  Paul Tracy (Canada)             KOOL
27  Dario Franchitti (Scotland)     KOOL
33  Patrick Carpentier (Canada)     Player's/Indeck
34  Dennis Vitolo (USA)             SmithKline Beecham
36  Alex Barron (USA)               Castrol-Degree-Toyota Reynard
40  Adrian Fernandez (Mexico)       Tecate/Quaker State/Labatt
77  Arnd Meier (Germany)            BAAN Business Software/Total Tel
98  P.J. Jones (USA)                Castrol-Degree-Toyota Reynard
99  Greg Moore (Canada)             Player's/Indeck

Past 10 Bosch Spark Plug Grand Prix Winners
       
1997 -- Paul Tracy
1996 -- Michael Andretti
1995 -- Emerson Fittipaldi
1994 -- Paul Tracy
1993 -- Nigel Mansell				
1992 -- Bobby Rahal
1991 -- Arie Luyendyk
1990 -- Emerson Fittipaldi
1989 -- Emerson Fittipaldi
1988 -- Danny Sullivan

Editors Note:
The images displayed in this article (plus many more) can be viewed in
The Racing Image Galleries
and the
Visions of Speed Art Gallery
.