---
WAJ Test Day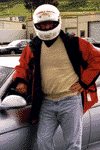 A Tough Job But Someone Has To Do It!
24 April 1998
Andrew Frankl
European Bureau Chief
| | |
| --- | --- |
| WAJ stands for Western Automotive Journalists, motoring journalists who live not a million miles from San Francisco. Some live in Sacramento, others in San Jose or somewhere in Marin County, so the City of the 49ers is where they normally meet. Except once a year when the action moves to Sears Point and the surrounding beautiful countryside. | |
Day One is a real torture. We have to drive brand new cars, one after the other for miles on end. Poor guys, I hear you say and yet it isn't always what it is made out to be. Take the cars in my group.
The Saab 9-3 was so gutless I thought maybe the 3 signified 300cc.. Or the GMC Suburban which made James Cameron's Titanic look rock steady..
There were of course highlights as well such as the glorious BMW M3 convertible and the Jaguar XJR.
| | |
| --- | --- |
| For sheer subtlety the Chevrolet Corvette pace car from the Indy 500 took the biscuit. Mercifully the men of the CHP were going the other way so I got away without punishment. As you'll see from the pictures this car-which is a lot of fun incidentally- is just like a red rag to a bull as far as the cops are concerned. | |
The Boxster was yet again the best handling car and looked like a dream in Ferrari red. The Oldsmobile Intrigue was a very pleasant surprise, a far cry from your everyday GM car and one that definitely deserves to succeed. The marque is just over 100 years old and after a lot of wasted years the executives have been allowed to go their own way to create great cars. Boy, does it show! Now they've only got the message across to the somewhat jaded public and they will be back in the saddle again! Well done team, just don't let the corporate honchos interfere too much!
Incidentally the worst case of head office interference happened in England a while back. The British car industry was being centralized and at one point the lady on the Jaguar switch-board had to say and I quote: "Second large car plant" when she answered. The ultimate YUK.
Anyway, back to the test day. The following morning it rained. Buckets. Some readers of The Auto Channel may not be aware of something called El Nino unless they live in the United States. Don't ask me for details, all I can tell you that it brings with it rain. Lots and lots from the Pacific Ocean. Like 24 days of it in February alone..
Anyway, to cut a long story short we had a little problem. We had some of the World's finest automobiles on an empty race track. There was no-one coming the other way, no double-yellow lines, no policemen and only a few cones to slow us down at points which seemed too dangerous to the people running the track.
They were of course completely right but it still left quite a few places where there were major accidents waiting to happen in the pouring rain. To everybody's eternal relief-and that most certainly includes President Lankard of the WAJ- there were no major offs, just a bit of mud here and there.
| | |
| --- | --- |
| In the rain I found the BMW 528i an absolute gem, I am convinced that when it comes to sheer handling the boys from Munich are in a class of their own. Yet again the Oldsmobile Intrigue was a pleasant surprise and of course the new Beetle had the longest queue of journos. Understandable in a way, we all either had one or knew someone who had one. Like everybody else I too am wondering whether it will be a seven day wonder or a huge, runaway success. | |
So far, if the reaction on the track and in down-town San Francisco is anything to go by it will be the latter. I was walking down Union Street the other day minding my own business when one of the very first ones in private hands pulled up on to the pavement outside a restaurant. "Oh my God, oh my God, isn't this the prettiest, cutest thing you've ever seen"-screamed the waitresses as the whole place came to a standstill. It certainly is. Is it a four seater-not really. Is it a great town car? Certainly. Would it be fun for two people plus luggage for a nice drive across Europe?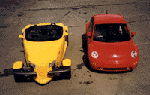 Without a shadow of a doubt. With production around the 100 thousand mark per annum orders will exceed supplies for years to come. Whether it will sell millions like its predecessor remains to be seen. All in all a good time was had by all, especially the representatives from the various manufacturers who must have had severe palpitations when a motley collection of journalists strapped themselves into their precious cars in the pouring rain. To be fair to that motley lot-yours truly being one of them-there wasn't even a scratch on any of them after two days and hundreds of miles. Roll on the test days of 99! WAJ test day -a tough job but someone has to do it!