---
NASCAR-WCUP: Darrell Waltrip's Talladega Philosophy
21 April 1998
Darrell Waltrip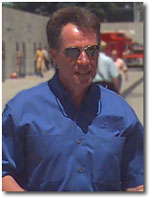 Darrell Waltrip's fourth career victory came at Talladega Super Speedway on May 1, 1977. Since that day, the three-time Winston Cup champion has posted three more victories and two poles at the 2.66-mile trioval. Talladega has changed over the years since Waltrip first began winning races. With the introduction of the restrictor plates, several multi-car accidents have marred many of the races. By the same token, Waltrip says Talladega can be one of the most enjoyable tracks to race. Waltrip's Talladega Victories
May 1, 1977		DiGard Racing


Aug. 5, 1979		DiGard Racing


May 2, 1982		Junior Johnson


Aug. 1, 1982		Junior Johnson
Talladega Philosophy:
"Here is my philosophy on Talladega: I know I'm going to wreck and I just hope I don't get hurt. At the end of the day I may be loading the Pennzoil Monte Carlo in our hauler and say to myself 'whew, I dodged a big one today.' But, still I know I'm going to wreck and I hope I don't get hurt."
Talladega Aggravating or Fun?
"Talladega's fun if you have a fast car. When you are back in the pack and the car is just mediocre, when you are hanging on all the time, when somebody is shoving you out of the way, and when you have to go three wide in the corner just to keep up, then that's when it's miserable."
How Intense is Talladega?
"You are in bumper-to-bumper, side-by-side, door- handle-to-door handle, three-deep and sometimes four-deep traffic all the time. The intensity is incredible. The bottom line is mentally it just wears you out. You have to stay on top of it all the time. You are running to together so long and so fast that you stay on the edge. You have to keep the front bumper right on the guy in front of you and you got a guy behind you trying to keep his bumper right on yours. While this is going on you got a guy on your side trying to move you out of line. When this race is over with you aren't physically exhausted as much as you are mentally exhausted."
Strategy to Avoid The Big Wreck
"I've done it both ways trying to avoid the big wreck. I have said I'm going to run in the back so I can see what's going on then I can miss it. I ran in the back and the race went without a caution. OK, that didn't work. So next time I said I'm going to run in the front and wouldn't you know it, one of the leaders wrecks everyone. You just never know what to do at Talladega. This time I think I'm just going to have a fast Pennzoil Monte Carlo and not worry about anything."
Editors Note: The images displayed in this article (plus many more) can be viewed in the Visions of Speed Art Gallery and the Racing Image Galleries.