---
The Callahan Report: Hamilton's Talent Shines at Martinsville
20 April 1998
Bobby Hamilton

MARTINSVILLE, VA:
Bobby Hamilton brought something with him to Morgan McLure racing at the beginning of the 1998 NASCAR season. He brought something that can't be bought with big sponsor funding. He brought to the team his short track talent, plain and simple.
Hamilton's talent was proven today as he dominated the Goody's Headache Powders 500 at the Martinsville Speedway. He drove smart . . . saved his precious brakes . . . and avoided the many incidents on the .526 mile oval. Hamilton's talent was obvious when the final statistics were posted. He led a total of 378 of the 500 laps. His talent earned him his third Winston Cup victory in 208 career starts. It was the first victory for his Morgan McLure racing team on a track less than a mile in length.
The caution filled race resulted in 14 yellow flags totaling 96 laps. If it weren't for the large amount of yellow flags, Hamilton quite possibly could have lapped the entire field. Only the top six cars finished on the lead lap. Hamilton earned $227,025 for his winning drive. This amount included the 76 Racing Challenge money for drivers who win from the pole position. He covered the distance with an average speed of 70.709 mph.
"I knew I'd learned how to get around here pretty good,'' Hamilton said. "The main thing was saving the brakes, and when the car corners that good and the motor's running that good, you can really take some time.
"Sometimes you just have them days when you know the thing is going to be good and you don't have to worry about anything."
Hamilton replaced Sterling Marlin in the Morgan McLure Kodak sponsored car at the beginning of the 1998 NASCAR season. Success has come quickly. Normally, teams take time to gel before obtaining success. Not in this case. Hamilton has proven his toughness at NASCAR's shortest track. In his last six races at Martinsville, Hamilton has been in the top five on five occasions.
Short tracks seem to be agreeable to the Chevrolet Monte Carlo chassis. In addition to Hamilton's winning Monte Carlo, four other Chevrolets finished in the top ten. For the first time in the 1998 season, Chevy outnumbered the Ford Taurus at the top of the finishing order. There were also four Fords and one Pontiac in the top ten.
Ted Musgrave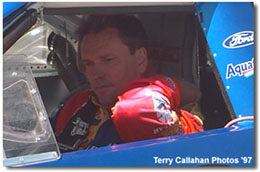 Ted Musgrave, part of the Jack Roush Racing "superteam" is still knocking at victory lane's door. Musgrave finished second this afternoon with the same patience and talent exhibited by Hamilton. Musgrave was quick, but was no challenge for Hamilton. He finished more that six seconds behind the leader. Musgrave's Roush Racing teammates did not fair as well today.
The second highest finisher on the Roush team was Chad Little. He crossed the line in 16th place. Mark Martin, who is the most experienced driver on the Roush team, had his troubles at Martinsville. Martin finished 29th. Other Roush drivers, Jeff Burton and Johnny Benson, finished 32nd and 38th respectively.
Randy LaJoie is proving why he has won the BGN championship the past two seasons. He is driving for the injured Ricky Craven (Hendrick Motorsports). LaJoie did better today than his popular and talented teammates. LaJoie finished 5th, while his superstar teammate Jeff Gordon, was 8th. The third member of the powerful Hendrick Racing team, Terry Labonte, crossed the line in 26th, four laps off the pace.
After a slow start, Dale Jarrett is back. He is posting consistent finishes. He finished third today, raising his place in the Winston cup standings. Jarrett turned in consistent performances last year. The consistency allowed him to close to within 14 points of the title. Jarrett is on the move.
Dale Earnhardt has mastered Martinsville on several occasions. He came close again today as he finished on the lead lap. His fourth place finish confirms that he is a serious contender for the championship. If anyone knows what it takes to win the title, it is the seven time Winston Cup champion, Earnhardt. He is shooting for his eighth Winston Cup title.
Rusty Wallace increased his Winston Cup point lead from 24 to 33 points over his Penske teammate, Jeremy Mayfield.
Complete results with finishing position, (starting position), driver, hometown, car model, laps completed, and money won follows:
1. (1) Bobby Hamilton, Nashville, Tenn., Chevrolet, 500, $227,025
2. (12) Ted Musgrave, Franklin, Wis., Ford, 500, $65,675.
3. (23) Dale Jarrett, Hickory, N.C., Ford, 500, $58,525.
4. (31) Dale Earnhardt, Kannapolis, N.C., Chevrolet, 500, $49,475.
5. (36) Randy LaJoie, South Norwalk, Conn., Chevrolet, 500, $44,325.
6. (2) Rusty Wallace, St. Louis, Ford, 500, $41,525.
7. (13) Jeremy Mayfield, Owensboro, Ky., Ford, 499, $35,425.
8. (3) Jeff Gordon, Pittsboro, Ind., Chevrolet, 499, $47,000.
9. (22) Ernie Irvan, Salinas, Calif., Pontiac, 499, $34,600.
10. (6) Ken Schrader, Fenton, Mo., Chevrolet, 499, $41,700.
11. (30) Morgan Shepherd, Conover, N.C., Chevrolet, 499, $27,185.
12. (7) Bill Elliott, Dawsonville, Ga., Ford, 499, $31,750.
13. (19) Brett Bodine, Chemung, N.Y., Ford, 499, $33,000.
14. (4) Ricky Rudd, Chesapeake, Va., Ford, 499, $39,150.
15. (10) Bobby Labonte, Corpus Christi, Texas, Pontiac, 499, $37,000.
16. (38) Chad Little, Spokane, Wash., Ford, 499, $23,950.
17. (41) Jeff Green, Whitehouse, Tenn., Pontiac, 499, $32,350.
18. (8) John Andretti, Indianapolis, Pontiac, 499, $34,155.
19. (35) Kenny Irwin, Indianapolis, Ford, 498, $36,500.
20. (24) Lake Speed, Jackson, Miss., Ford, 498, $23,550..
21. (27) Michael Waltrip, Owensboro, Ky., Ford, 497, $29,700.
22. (17) Kenny Wallace, St. Louis, Ford, 497, $22,350.
23. (29) Robert Pressley, Asheville, N.C., Ford, 497, $18,500.
24. (9) Joe Nemechek, Lakeland, Fla., Chevrolet, 497, $27,950.
25. (32) Steve Grissom, Gadsden, Ala., Chevrolet, 497, $27,700.
26. (43) Terry Labonte, Corpus Christi, Texas, Chevrolet, 496, $33,350.
27. (42) Jerry Nadeau, Danbury, Conn., Ford, 496, $17,200.
28. (20) Ward Burton, South Boston, Va., Pontiac, 496, $27,150.
29. (18) Mark Martin, Batesville, Ark., Ford, 495, $33,700.
30. (26) Jimmy Spencer, Berwick, Pa., Ford, 493, $26,750.
31. (25) Hut Stricklin, Calera, Ala., Chevrolet, 485, $19,600.
32. (15) Jeff Burton, South Boston, Va., Ford, 470, $33,075.
33. (28) Rick Mast, Lexington, Va., Ford, 456, $18,850.
34. (16) Kyle Petty, Randleman, N.C., Pontiac, 452, $23,225.
35. (40) Geoff Bodine, Chemung, N.Y., Ford, 433, rear end, $23,100.
36. (21) Sterling Marlin, Columbia, Tenn., Chevrolet, 432, $16,025.
37. (39) Dick Trickle, Wisconsin Rapids, Wis., Ford, 431, $22,900.
38. (37) Johnny Benson, Grand Rapids, Mich., Ford, 403, $15,750.
39. (34) Todd Bodine, Chemung, N.Y., Pontiac, 369, engine failure, $16,650.
40. (14) Darrell Waltrip, Franklin, Tenn., Chevrolet, 278, handling, $15,550.
41. (11) Rich Bickle, Edgerton, Wis., Ford, 274, engine failure, $22,450.
42. (33) Kevin Lepage, Shelburne, Vt., Chevrolet, 142, engine failure, $15,350.
43. (5) David Green, Owensboro, Ky., Chevrolet, 71, crash, $15,550.
Editors Note: The images displayed in this article (plus many more) can be viewed in The Racing Image Galleries and the Visions of Speed Art Gallery.