---
The Callahan Report: Wallace/Mayfield Favored at Martinsville
16 April 1998
MARTINSVILLE, VA:
Brakes. One word tells the strategy for the NASCAR Winston Cup race at the Martinsville Speedway. Only the drivers who know how to conserve their brakes will be contenders. Those who fail will enter the pits with flames spouting through the hubs of their front wheels.
The current Winston Cup leader learned long ago how to save his precious brake pads. Rusty Wallace has won the Spring race at Martinsville three times. Most recently, Wallace visited victory lane at Martinsville in 1996. With the momentum of the series points lead and the direction of Penske South Racing, Wallace is the favorite this weekend. Wallace started 15th in last year's race. He hustled to a fifth place finish.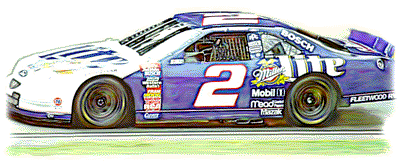 Rusty Wallace, Winston Cup Points Leader
Wallace has a new teammate for 1998. Jeremy Mayfield is a close second behind Wallace in the Winston Cup points. Mayfield's performance in this race last year was even more impressive than his teammate's. Mayfield started deep in the pack last year. He charged from 29th on the grid to finish seventh. With the valuable brake notebooks stored in the Penske vaults, Mayfield may have the tools he needs to grab his first Winston Cup victory.
Mark Martin has never won at Martinsville. He came close last year with a third place finish. He started 39th. Martin is off to a great start in 1998. He has already pocketed two victories this year. He vaulted to fourth place in the Winston Cup points with his victory at Texas two weeks ago. If some of the younger drivers need a lesson in getting around the tight .526 mile Martinsville Speedway, they should stick to Mark Martin's tail. He certainly has what it takes to win at one of NASCAR's toughest short tracks.
Leading the Chevrolet contingent will be defending Winston Cup champion, Jeff Gordon. They star from Pittsboro, IN dominated this race last year. He led all but 69 laps. Gordon has two wins so far in 98 but is very hungry. He crashed in a first lap incident in the last race in Texas. Gordon will be back with a vengeance in Martinsville.

Jeff Gordon, Defending Champion
Also carrying the Chevy banner will be Gordon's teammate. Terry Labonte was strong as ever in the last race here. Labonte qualified well and stayed near the front. Expect more of the same as Labonte will likely post another high finish. Labonte is always steady and consistent. With the right breaks and brakes, he could be in victory lane this weekend.
The darkhorse pick for Martinsville is Kenny Wallace. This is based on his strong performance from a year ago. Being smart at Martinsville may run in the family or it is possible Kenny got a glimpse of his older brother's (Rusty's) notebook. It was the younger Wallace who sat on the pole last year. Kenny refused to drop back throughout the grueling battle. He finished with the leaders in sixth. With another year's experience packed away in his already bright career, Wallace will be a driver to watch.
The Goody's Headache Powder 500 will get underway this Sunday, April 19, at 1 p.m. (et). It will be the 43rd running of the popular NASCAR event in Martinsville.
Callahan's Picks:
1. Rusty Wallace
2. Jeremy Mayfield
3. Mark Martin
4. Jeff Gordon
5. Terry Labonte
Darkhorse: Kenny Wallace
The past 10 winners of the Goody's Headache Powders 500:
1997 -- Jeff Gordon (Chevrolet)
1996 -- Rusty Wallace (Ford)
1995 -- Dale Earnhardt (Chevrolet)
1994 -- Rusty Wallace (Ford)
1993 -- Ernie Irvan (Ford)
1992 -- Geoff Bodine (Ford)
1991 -- Harry Gant (Oldsmobile)
1990 -- Geoff Bodine (Ford)
1989 -- Darrell Waltrip (Chevrolet)
1988 -- Darrell Waltrip (Chevrolet)
Editors Note: The images displayed in this article are available for larger viewing in The Racing Image Galleries and The Visions of Speed Art Gallery.