---
NASCAR: DW's Favorite Martinsville & Future of Short Tracks
9 April 1998
Darrell Waltrip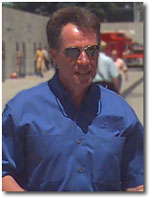 It takes time for #1 Pennzoil Monte Carlo driver Darrell Waltrip to recall his favorite race at Martinsville Speedway. There have been so many Martinsville highlights for Waltrip that it's hard to single out one particular race. Along with 11 victories on the flat half-mile track, the three-time Winston Cup champion has earned eight pole awards.
In the 1989 Spring race, Waltrip trailed Dale Earnhardt and Rusty Wallace exiting turn two on the final lap. Wallace and Earnhardt got together pushing each other high in turn three while Waltrip used the low groove to pass for the victory. A picture of the pass hangs in the Martinsville Speedway offices and track officials still refer to that move as "the pass." But Waltrip's favorite Martinsville race occurred in 1987 when he, Earnhardt, and Terry Labonte staged a wild battle on the final lap that saw Waltrip emerge as the winner.
1987 Martinsville Fall Race:
"Dale was leading, Terry was second and I was third on the last lap. We come off turn two and Dale got Terry kind of out of the groove and broke the momentum. Going down into turn three I bumped Terry a tiny bit and he hit Dale just a little bit and they both spun out and I won the race. That was pretty exciting. There were a lot of things said and there was a lot of people mad after the race. Terry was hot. I didn't hit him really hard. I just nerfed him a little. I think he was as mad at Dale as he was at me because Dale kind of got him up in the wall. That was the most exciting Martinsville to me. I couldn't believe how that ended."
Martinsville Now Vs. Martinsville Past:
"Martinsville used to be a race where you had to pace yourself. You had to have a game plan. We used to have a stopwatch speed that you wanted to run. You said if I run this speed, then the brakes would last the motor would last and all of your equipment would last. Now it isn't that way. You run as hard as you can go. We have much much better brakes on our Pennzoil car now. Brakes have always been a concern at Martinsville. The cars can now take a lot more abuse than they used to. The biggest difference between now and the past is that you can drive hard now and not have to worry about the equipment."
Future of Short Track Racing:
Note: Waltrip earned 47 of his 84 career victories on short tracks.
"I think Bristol Motor Speedway exemplifies what a short track can do. I know there is a debate about the future of the short tracks. I don't think they have to go away. But, they do have to do what Bristol and Richmond did. They've got to be able to seat 100,000 people so they can maintain a $4 million purse that is required these days to sustain this sport. Short track racing is critical. It's exciting. It's some of the best racing we do and it's the backbone of the sport. Short tracks are what made this sport and sustain it. It's where our fans come from its where our drivers come from. It will always be vital. I hope it never goes away."
Editors Note: The images displayed in this article are available for larger viewing in The Racing Image Galleries and The Visions of Speed Art Gallery
.