---
The Callahan Report: Team Rahal Captures Front Row at Long Beach
4 April 1998
Bryan Herta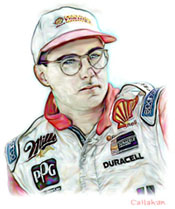 LONG BEACH, CA:
Team Rahal will occupy the front row at the CART Toyota Grand Prix of Long Beach on Sunday afternoon. The young and shining star of the future, Bryan Herta will get the extra point for starting from the pole. His boss and 45 year old series veteran, Bobby Rahal, will have the outside spot on the front row.
Rahal, in his final season as a driver, will have a better view of the start of a CART race than he has had in quite some time. Coming off a horrifying crash in Japan last weekend, Rahal is all smiles now with his success at Long Beach.
Typically, the second day of qualifying for CART events proves to be faster than the opening day of qualifying. Rainy weather in the Long Beach area kept the speeds down this afternoon. Rahal and Herta were the fastest in qualifying rounds on Friday. Those speeds were not improved upon today.
Adrian Fernandez

Adrian Fernandez is also off to the best season start in his six year CART career. The young Mexican will start third in his Quaker State/Tecate Beer sponsored racer. Gualter Salles, of Brazil, will fill the other spot in row two.
Long Beach is the best street circuit on the series. The racing weekend is filled with exciting support races, including the celebrity race. Fans have a chance to see a variety of support races in addition to the celebrity race. The pits and VIP areas are filled with celebrities from nearby Hollywood. Expert race promoter, Chris Pook and his staff deserve credit for their talent of putting together the Toyota Grand Prix weekend.
The driver who appears has a room full of trophies from the Long Beach race is Al Unser Jr. The second generation driver has won six races at Long Beach. His success on the CART circuit the past couple of years has been dismal. Unser looked rejuvenated last weekend in Japan. He finished a close second to Adrian Fernandez. With his experience at Long Beach, he could be a threat from any starting position. He only has to pass nine cars to make it to the front this weekend. Unser will start from the tenth spot.
The complete lineup with starting position, (car number), driver, hometown/ country, chassis- engine, and qualifying speed follows:
1. (8) Bryan Herta, New Albany, Ohio, Reynard-Ford, 111.226.
2. (7) Bobby Rahal, New Albany, Ohio, Reynard-Ford, 111.028.
3. (32) Adrian Fernandez, Mexico, Reynard-Ford, 110,982,
4. (34) Gualter Salles, Brazil, Reynard-Ford, 110.941.
5. (5) Gil de Ferran, Brazil, Reynard-Honda, 110.906.
6. (6) Michael Andretti, Nazareth, Pa., Swift-Ford, 110.471.
7. (20) Scott Pruett, Crystal Bay, Nev., Reynard-Ford, 110.452.
8. (27) Dario Franchitti, Scotland, Reynard-Honda, 110.314.
9. (26) Paul Tracy, Canada, Reynard-Honda, 110.261.
10. (2) Al Unser Jr., Albuquerque, N.M., Penske-Mercedes, 110.186.
11. (4) Alex Zanardi, Italy, Reynard-Honda, 110.156.
12. (11) Christian Fittipaldi, Brazil, Swift-Ford, 110.143.
13. (21) Tony Kanaan, Brazil, Reynard-Honda, 110.100.
14. (99) Greg Moore, Canada, Reynard-Mercedes, 110.078.
15. (16) Helio Castro-Neves, Brazil, Reynard-Mercedes, 109.997.
16. (9) J.J. Lehto, Finland, Reynard-Mercedes, 109.863.
17. (3) Andre Ribeiro, Brazil, Penske-Mercedes, 109.646.
18. (19) Michel Jourdain Jr., Mexico, Reynard-Ford, 109.542.
19. (10) Richie Hearn, Henderson, Nev., Swift-Ford, 109.534.
20. (12) Jimmy Vasser, Las Vegas, Reynard-Honda, 109.420.
21. (77) Arnd Meier, Germany, Lola-Ford, 109.011.
22. (17) Mauricio Gugelmin, Brazil, Reynard-Mercedes, 108.743.
23. (18) Mark Blundell, England, Reynard-Mercedes, 108.560.
24. (25) Max Papis, Italy, Reynard-Toyota, 108.030.
25. (98) P.J. Jones, Rolling Hills, Calif., Reynard-Toyota, 107.971.
26. (33) Patrick Carpentier, Canada, Reynard-Mercedes, 107.804.
27. (36) Alex Barron, Vista, Calif., Reynard-Toyota, 107.554.
28. (15) Mimmo Schiattarella, Italy, Reynard-Mercedes, 107.550.
29. (24) Hiro Matsushita, Japan, Reynard-Toyota, 104.955.
Editors Note: The images displayed in this article are available for larger viewing in The Racing Image Galleries and The Visions of Speed Art Gallery.