---
Trucks: Sprague Ready to Defend CTS Title
1 April 1998
HOMESTEAD, FL
- Jack Sprague is more than ready to get back on the race track. After an eleven week gap following the NASCAR Craftsman Truck Series season opener, the defending NASCAR Craftsman Truck Series Champion is anxious to get back to the business of winning races.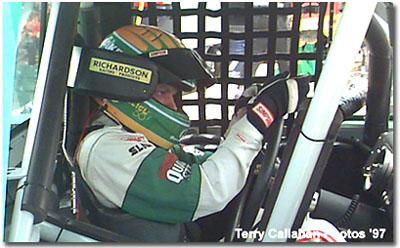 Jack Sprague
Sprague and his Team Hendrick Chevrolet crew headed by veteran crew chief Dennis Connor are looking to make the April 4th Florida Dodge Dealers 400K at Miami-Dade Homestead Motorsports Complex the next step in claiming their second NCTS championship. A successful defense by Sprague would make him the first in series history to repeat as the winner of the coveted title.
"I am definitely ready to get back on the race track," said Sprague. "Although we have tested during this break, it is not the same as head-to-head competition. It is crucial for us to get our momentum going to make a run for the champaionship.
"Our goal for 1998 is to be the first repeat champions in the truck series," Sprague continued. "With the level of competition in this series, that is going to require a totally focused effort and consistency race after race. It would be a tremendous accomplishment for this team to be the first repeat champions. Dennis and the crew have been working hard to get trucks prepared. We feel like we have all the right ingredients in place to again be championship contenders.
"I am really looking forward to running at Homestead," concluded Sprague. "We tested there in February and were impressed with the new track configuration. It is smooth and fast. Just my style."
The Flordia Dodge Dealers 400K at Miami-Dade Homestead Motorsports Complex is scheduled for Saturday, April 4, 1998 beginning at 1:30 p.m. EST. Live radio coverage will be provided the NASCAR Truck Network, a division of Motor Racing Network (MRN), beginning at 1:15 p.m. EST. Television coverage will be same- day tape-delayed by The Nashville Network (TNN) airing at 5:00 p.m. EST.
Editors Note: The images displayed in this article are available for larger viewing in The Racing Image Galleries and The Visions of Speed Art Gallery
.