---
NASCAR: Kenny Wallace Sore but Ready to Race at Texas
1 April 1998
Kenny Wallace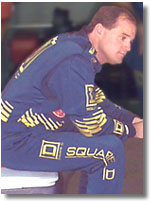 HARRISBURG, N.C.,
- A hard crash with the Chevrolet of Hut Stricklin in last Sunday's Food City 500 at Bristol Motor Speedway relegated Kenny Wallace to a 42nd-place finish. The impact left the Square D Ford driver with some soreness when he awoke Monday morning, but he was otherwise okay.
"In happy hour we had a sway bar bound up and didn't know it," said Wallace. "It hurt our adjustments for the race because we were too tight. I was staying out of trouble and had a good run going. We kept adjusting the car but we just didn't make it to the finish. The eight (Hut Stricklin) and the 11 (Brett Bodine) got together and I didn't have anywhere to go and I T-boned him (Stricklin) right in the door. The hit was so hard I felt like John Force going backwards. It was just a bad race for us. We've tested at Texas so obviously we're looking for better things there."
When the NASCAR Winston Cup Series made its inaugural visit to Texas Motor Speedway, heavy rains washed out qualifying and most of the allotted practice times. Teams didn't get much time to adjust their car's setup to the intricacies of the 1.5-mile oval. Therefore, testing for this year's Texas 500 has been high on the priority list for many Winston Cup teams.
"I feel very fortunate in that Todd Bodine, my partner Bill Elliott and myself were the only teams who were able to get, what I call, an up-to-speed test," said Wallace, driver of the Square D Ford. "We tested hard for three days and we're pretty comfortable with what we learned. We were able to test with the new spoiler requirements too, because we called Mike (Helton, NASCAR vice-president for competition) before we left to see what NASCAR was going to do to our Tauruses."
What NASCAR did was cut two inches off the width of the rear spoiler on the Ford Taurus, making it 55 inches wide. The spoiler height of 4.75 inches remains the same. Wallace termed his test session to be "up-to-speed" because in addition to practicing under the new spoiler rules, Wallace was able to test before rain inundated the 1.5-mile oval, a luxury many teams didn't have.
Those who traveled to Texas Motor Speedway to log some time on the track but were thwarted by inclement weather included Terry Labonte, the No. 50 Hendrick Motorsports car, Sterling Marlin, Joe Nemechek and rookie Jerry Nadeau.
"Texas is a 190 mph-plus race track," continued Wallace. "You've got to have your confidence level up so that you know there's nothing that's going take you out of the race but yourself or your car."