---
NASCAR: Darrell Waltrip Ready For His "First" Texas Race
31 March 1998
Darrell Waltrip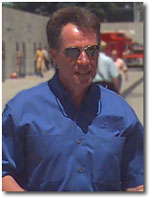 The #1 Pennzoil Monte Carlo driver Darrell Waltrip feels this weekend will really be his first race at Texas Motor Speedway. In NASCAR's inaugural visit to the Fort Worth track last year, rain limited practice and eliminated qualifying. Then a first corner accident ended the three-time Winston Cup champion's race seconds after it began.
Last week, Dale Earnhardt Inc. named Waltrip the interim driver until Steve Park returns from injuries suffered in a March 6 practice crash at Atlanta. At Bristol, Waltrip finished 23rd in a car built by his former team and serviced by a combination crew of that team and DEI. Texas will mark the first time Waltrip races a Dale Earnhardt Inc. car.
Darrell Waltrip Joining Pennzoil, Dale Earnhardt Inc:
"This whole episode ought to be a good lesson to everybody. Don't ever say never. I probably have said that a few times and regretted it. Between Dale and I, there are 10 championships and a hundred and something wins. We bring a lot to the table. They give me a chance to rectify my situation with my team and I get a chance to help the Pennzoil team get headed in the right direction and help them cut down on some of their trial and error. I hate to keep saying this, but this is a win-win situation for everyone."
Texas:
"I didn't get to run at Texas. We didn't qualify because of the rain and we were taken out on the first lap. So really, I feel like I never even went to Texas last year. I know the place is a lot like Atlanta where you are going pretty fast and you have to respect it. The guys tell me we have a great car and I'm excited about that."
Qualifying at Texas:
"It will just be up to the driver to step up and get qualified good. That is where I struggle. We just have to work real hard to get a comfortable car so when I pack it off in the corner it will stay with me. Once qualifying is over then I think we will race great."
Working With Crew Chief Philippe Lopez:
"If a coach named Tubby can take the (Kentucky) Wildcats to the final game of the NCAA tournament, then I think a crew chief named Philippe can help me win a race."
Darrell Waltrip As A Car Owner vs. Driver:
"All day Sunday I never thought about the Pennzoil Monte Carlo being Dale's car, my car, Teresa's car, or whoever's car it was. My goal was to do the best job that I could do. The relief for me is the whole weekend of not having to worry about running the show. I'm a lot happier than I was this time last week."