---
NASCAR: Pressley Gets Bruised at Bristol
31 March 1998
Robert Pressley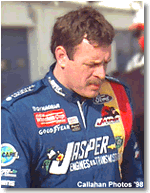 Bristol, TN
-- NASCAR Winston Cup Series driver Robert Pressley was on his way to a top 10 finish at the one half mile Bristol Motor Speedway on Sunday. Unfortunately a power steering failure sent him hard into the fourth turn wall with just 10 laps to go in the Food City 500. Pressley was treated and released from the Bristol Regional Medical Center after complaining of a sore neck and shoulder. Pressley was credited with a 28th place finish in the event.
The driver of the Jasper Engines & Transmissions Ford had managed to avoid one spinning car after another to find himself running in the 11th position with just 10 laps to go.. "The power steering starting acting up with about 125 laps left and I had been fighting the car just trying to hang on," Pressley said later. "After that last restart, I headed down into turn three and the car just kept going straight. I locked it down, but it still hit pretty hard. I hurt from my bellybutton on up. I'm sure I'm gonna be sore for a few days, but I'll be fine."
Pressley started the #77 Jasper Engines & Transmissions Ford in the 31st position. By the mid-point of the race, Pressley was running in the sixth position due to quick work in the pits by the Jasper Motorsports crew. "The guys have really been working hard on pit stops lately and it started paying off. We were able to stay right with the lead pack of cars, even though we were pitted on the backstretch, and that doesn't happen without some good pitwork."
Just before the accident, Pressley was running 11th, one lap down to eventual race winner Jeff Gordon, when the caution flew due to a multi-car pile-up in turns three and four. Pressley and Brett Bodine both raced Gordon back to the flag in an attempt to get their laps back. NASCAR determined that the leader had already taken the yellow flag and sent Bodine and Pressley to the back of the pack . Once again, Pressley marched toward the front and was knocking on the door of the top 10 when the accident occurred. "We were right there," Pressley said. "We had a top 10 car. The crew performed like a top 10 team all weekend long. From the time the car rolled off the truck for practice to each pit stop during the race, we were there." The Jasper crew will head to Fort Worth, Texas, this next weekend for the Texas 500 NASCAR Winston Cup Series event. This will be only the second time the Winston Cup drivers have competed on the mile and a half track. The teams will receive an extra day of practice before qualifying is scheduled to begin on Friday, April 3, 1998.