---
Darrell Waltrip's Successful Opening Act
30 March 1998
Darrell Waltrip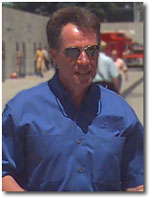 (Bristol, Tenn.)
- Minutes before Sunday's Food City 500, three-time Winston Cup champion Darrell Waltrip stood in the Pennzoil hauler and outlined goals for he and his new teammates at Dale Earnhardt Inc.
"We need to leave here today with something we can build on later," Waltrip told the team meeting. "We don't expect miracles here, but our goal is to make this team the best team it can be while I'm here."
Waltrip joined the team on Friday as the interim driver until Steve Park can return from injuries suffered in a practice crash at Atlanta. New owner T.J. Beverley plans to reorganize Waltrip's old team and resume racing once Waltrip completes his stint with the Pennzoil car.
Beverley purchased Waltrip's team on Thursday, the same day the Texas jet airplane dealer allowed Waltrip to fill-in for Park. But on Sunday, all the business issues were far from Waltrip's mind. This day, Darrell Waltrip the driver was ready to take center stage and make his debut in the bright yellow car.
About four hours, 500 laps, and nearly a dozen accidents later the 51-year-old Waltrip used ice and cold water to recover from the extreme temperatures inside the Pennzoil Monte Carlo. But, as he sat on the couch in the lounge of the hauler he was smiling.
The opening act was a success. A 23rd-place finish.
"The bottom line is this the best this team has finished this year and this is the best I have finished this year," Waltrip said. "As we have said this whole arrangement is a win-win situation and I think you saw a little of that today."
Waltrip's results weren't spectacular if you consider he finished four laps behind Jeff Gordon and runner-up Terry Labonte. But consider this. Waltrip returned to the hauler after 500 laps on the treacherous track with an undamaged car, and some experience together with a new team.
"If 23rd place is the worst we are going to do then we are going to be OK," said Philippe Lopez, crew chief of the Pennzoil Monte Carlo.
Waltrip started last of the 43 cars crammed into the half-mile track and beat and banged with the back half of the field as drivers tried to keep from going a lap down to leader Rusty Wallace who set a blistering pace.
"We didn't seem to be very fast on sticker (new) tires, but after a few laps we could run the same times as most of the fast guys," Waltrip said.
It took the leaders more than 200 laps before they could pass Waltrip and only after a loose condition developed on a long green flag run. Waltrip spent most of the second half of the race battling the handling problem.
But Waltrip avoided accidents, never forced the car where it shouldn't be and managed to leave Bristol with a higher finish than some faster cars that succumb to accidents.
"This was my car we raced here this weekend and next week at Texas we plan to run an Earnhardt Inc. car and I'm interested to see how that goes," Waltrip said. "This is going to be pretty fun."
Waltrip returns to the track this weekend at Texas Motor Speedway.
Editors Note: The images displayed in this article are available for larger viewing in the Racing Image Galleries.