---
The Callahan Report: Rainbow Warriors Win One For Gordon
29 March 1998
BRISTOL, TN: The NASCAR Winston Cup cars show up at Bristol Motor Speedway clean and sparkling. They leave with a variety of battle scars. You can be sure that any winner at Bristol has earned his trip to victory lane. For the fourth time in a row, Jeff Gordon bumped and banged his way to a springtime Bristol Victory. Today, it was the Food City 500.

Jeff Gordon Wins at Bristol for the Fourth Year In a Row
All the credit can't go to Gordon. His pit crew did something he couldn't while charging around the race track. On the last pit stop, Gordon's rainbow warrior crew was able to give him the quick service he needed to take the lead. Gordon acknowledged their efforts.
"I'm real excited about pulling this one off. We certainly didn't show the strength to do it. I knew that last pit stop was a good one,'' Gordon said. ``I could tell. It was like.... Wow, these guys are jamming."
Once in front with 59 laps remaining in the battle, Gordon was able to control the race. He held off his teammate, Terry Labonte, for the final 59 laps of the 500 lap event. At the end, Gordon beat Labonte by about five car lengths.
Gordon continued his praise of his crew. "You've got to have a good pit crew,'' Gordon said. ``I count on those guys an awful lot. They certainly were awesome today.''
With the victory, Gordon became the first repeat winner on the 1998 Winston Cup season. Gordon also won at Rockingham (the second race of the season) earlier this year. Today's race was the sixth race on the long 32 race NASCAR schedule. It was the third victory of the season for Chevrolet. Ford has two victories and Pontiac has one win (Atlanta).
Labonte had a great stop on the last pit sequence as well. His stop was as good as Gordon's. Labonte blamed himself for not making the best of the stop. He said, "They dropped the car and I didn't go. Those guys just beat me out of the pits. I made a mistake.''
Racing at Bristol seems to breed accidents. While the grandstands and the grounds of the .533 mile track are monuments to the sport, the on track quarters are a bit more confined. There were 14 caution causing wrecks during the action today. There was even one red flag incident. The most serious crash saw Hut Stricklin sideways in the middle of the track. Kenny Wallace took the high road to avoid Stricklin, but ran out of room and t-boned him instead. Stricklin was taken to a nearby hospital for back and neck X-rays. He was later released with no injuries reported.
Rusty Wallace has been the most consistent finisher so far this season. That consistency had earned Wallace the series points lead. Wallace had finished in the top five in each of the races prior to Bristol. That string ended today. Wallace dominated the race in the early stages. He had led 220 of the first 400 laps.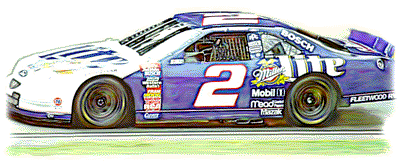 Rusty Wallace: Five Race Finishing String Broken
Wallace developed an engine problem on lap 423. Engine problems kept Wallace from finishing 11 races last year. After his engine problem today, Wallace was trying to limp around the track to gain as many Winston Cup points as possible. Thirteen laps later, he ran over a large chunk of debris. He cut a tire as a result. Wallace went straight for the Bristol concrete. The concrete won. Wallace finished 33rd.
Wallace commented, "I really thought the engine gremlins were gone, but it's started again. But I'm not worried about bouncing back. I know we're going to do that."
Jeremy Mayfield

Wallace enjoyed a 54-point lead heading into the race today. He now holds the lead by a single point over his Penske Kranefuss Racing teammate, Jeremy Mayfield. Race Winner, Jeff Gordon, is moving up in the standings. He is third in points, just 41 behind Wallace.
"Forty-one back from first? Cool,'' Gordon commented. ``I would have been content today with a third or a fourth-place finish. We were looking for a top five.''
Gordon got one of his Bristol "battle scars" late in the race (lap 484). It was Gordon who caused the last caution flag of the race. He tapped the back end of Greg Sacks coming out of turn two with 16 laps remaining.
Gordon admitted his mistake. "I was hoping he wouldn't be there when I got there, and he was,'' Gordon said. ``I truly didn't mean to get into him.''
Race Stats:

Winner's average speed: 82.850 mph. 
Time of race: 3 hours, 13 minutes. 
Margin of victory: 0.583 seconds. 
Caution flags: 14 for 88 laps. 
Lead changes: 19 among 10 drivers.

Top Ten in Winston Cup Points:

R. Wallace 909
Mayfield 908
Gordon 868
T. Labonte 851
Elliott 803
Earnhardt 802
Martin 799
J. Burton 794
Jarrett 785
Schrader 730

Results of the Food City 500 NASCAR race at Bristol, TN with finishing position, (starting position), driver, hometown, car model, laps completed, and money won:
1. (2) Jeff Gordon, Pittsboro, Ind., Chevrolet, 500, $90,860.
2. (3) Terry Labonte, Corpus Christi, Texas, Chevrolet, 500, $57,960.
3. (6) Dale Jarrett, Hickory, N.C., Ford, 500, $57,660.
4. (5) Jeff Burton, South Boston, Va., Ford, 500, $47,670.
5. (8) Johnny Benson, Grand Rapids, Mich., Ford, 500, $31,770.
6. (14) Ken Schrader, Fenton, Mo., Chevrolet, 500, $43,270.
7. (9) Mark Martin, Batesville, Ark., Ford, 500, $39,070.
8. (29) Ted Musgrave, Franklin, Wis., Ford, 500, $33,470.
9. (32) Michael Waltrip, Owensboro, Ky., Ford, 500, $35,320.
10. (17) Randy LaJoie, Norwalk, Conn., Chevrolet, 499, $38,165.
11. (20) Brett Bodine, Chemung, N.Y., Ford, 499, $32,295.
12. (10) Jeremy Mayfield, Owensboro, Ky., Ford, 499, $30,940.
13. (41) Dick Trickle, Wisconsin Rapids, Wis., Ford, 498, $31,715.
14. (26) Jimmy Spencer, Berwick, Pa., Ford, 498, $37,915.
15. (38) Bill Elliott, Dawsonville, Ga., Ford, 498, $31,515.
16. (42) Steve Grissom, Gadsden, Ala., Chevrolet, 498, $30,590.
17. (39) Ward Burton, South Boston, Va., Pontiac, 498, $29,740.
18. (40) Bobby Hamilton, Nashville, Tenn., Chevrolet, 498, $29,540.
19. (21) John Andretti, Indianapolis, Pontiac, 497, $34,030.
20. (28) Ernie Irvan, Salinas, Calif., Pontiac, 497, $31,175.
21. (30) David Green, Owensboro, Ky., Chevrolet, 497, $23,415.
22. (37) Dale Earnhardt, Kannapolis, N.C., Chevrolet, 496, $33,715.
23. (43) Darrell Waltrip, Franklin, Tenn., Chevrolet, 496, $18,665.
24. (12) Morgan Shepherd, Conover, N.C., Chevrolet, 496, $18,590.
25. (19) Rick Mast, Lexington, Va., Ford, 496, $22,245.
26. (15) Derrike Cope, Spanaway, Wash., Pontiac, 495, $28,615.
27. (22) Kevin Lepage, Shelburne, Vt., Chevrolet, 491, $19,495.
28. (31) Robert Pressley, Asheville, N.C., Ford, 489, handling, $18,440.
29. (16) Todd Bodine, Chemung, N.Y., Pontiac, 486, $18,410.
30. (35) Ricky Rudd, Chesapeake, Va., Ford, 482, $34,485.
31. (36) Lake Speed, Jackson, Miss., Ford, 460, handling, $20,315.
32. (4) Mike Skinner, Susanville, Calif., Chevrolet, 460, $17,395.
33. (1) Rusty Wallace, St. Louis, Ford, 446, $37,275.
34. (7) Bobby Labonte, Corpus Christi, Texas, Pontiac, 442, wreck, $32,235.
35. (34) Chad Little, Spokane, Wash., Ford, 442, wreck, $20,215.
36. (11) Greg Sacks, Mattituck, N.Y., Ford, 425, $26,695.
37. (23) Jerry Nadeau, Danbury, Conn., Ford, 399, $17,185.
38. (33) Kyle Petty, Randleman, N.C., Pontiac, 394, $24,175.
39. (18) Geoff Bodine, Chemung, N.Y., Ford, 385, engine, $24,165.
40. (24) Sterling Marlin, Columbia, Tenn., Chevrolet, 324, $17,150.
41. (25) Hut Stricklin, Calera, Ala., Chevrolet, 204, handling, $17,125.
42. (13) Kenny Wallace, St. Louis, Ford, 155, wreck, $17,100.
43. (27) Kenny Irwin, Indianapolis, Ford, 88, wreck, $32,077.
Editors Note: The images displayed in this article (plus many more) can be viewed in the Visions of Speed Art Gallery and the Racing Image Galleries.