---
It's Official; Pennzoil, Dale Earnhardt Inc. & D.W. Join Forces
27 March 1998
Darrell Waltrip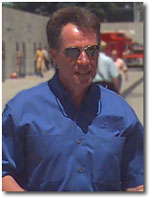 (Bristol, Tenn.)
- Three of auto racing's most prolific names joined forces Friday when Dale Earnhardt, Inc. and Pennzoil announced that three-time Winston Cup Champion Darrell Waltrip will drive the #1 Pennzoil Monte Carlo until Steve Park returns from injuries suffered March 6 at Atlanta.
Waltrip begins his stint in the Pennzoil Monte Carlo this weekend at Bristol where he has posted a record 12 victories including a string of seven consecutive wins beginning in 1981.
"This is a perfect example of why you should never say never. The last person in the world I ever thought I would be driving for was Dale Earnhardt," Waltrip said. "But, this is a win-win situation for everyone involved. It gives Dale Earnhardt, Inc. and Pennzoil some stability while giving T.J. Beverley, my new car owner, a chance to reorganize the #17 team and find a sponsor.
"Now that all the headaches of being a team owner are behind me, I'm ready to climb into the Pennzoil Monte Carlo and prove to everyone that Darrell Waltrip can still get the job done as a race car driver."
Park is recuperating at his Cornelius, N.C. home from a broken right leg, left collarbone and right shoulder blade. He is expected to miss 3 to 6 months.
Ty Norris, General Manager at Dale Earnhardt, Inc., said Park will replace Waltrip as soon as he is pronounced ready to drive by the doctors overseeing the recovery. Upon Park's return, Waltrip will resume driving the #17 Monte Carlo he has driven since 1991.
"Darrell Waltrip is the perfect solution to our dilemma, and I believe Dale Earnhardt, Inc. is the perfect solution for Darrell Waltrip," Norris said. "Darrell, Don Hawk, and T.J. Beverley worked a lot of hours to make this happen, and I don't think any of us fully realize what kind of impact this alliance is going to have.
"This season has been pretty tough for us with Steve getting hurt, but Darrell's willingness to drive the Pennzoil Monte Carlo has renewed our spirit. Darrell will help this team build and be stronger when Steve returns and this should allow Darrell's team time to regroup and be stronger for when he returns."
The Pennzoil Monte Carlo Waltrip will drive this weekend at Bristol was built by Darrell Waltrip Motorsports and is the same car Waltrip drove here last August. This weekend it will be maintained by a mixed crew of employees from both Dale Earnhardt, Inc. and Darrell Waltrip Motorsports.
The Pennzoil crew will resume fielding the car next week at Texas Motor Speedway.
Editors Note: The images displayed in this article are available for larger viewing in the Racing Image Galleries
.