---
Pennzoil/Dale Earnhardt Will Name Waltrip As Interim Driver
26 March 1998
By Terry Callahan
The Auto Channel
Darrell Waltrip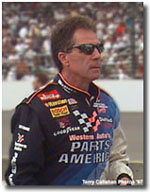 Bristol, TN:
Pennzoil and Dale Earnhardt Inc. plan a major announcement regarding an interim driver for the #1 Pennzoil Monte Carlo on Friday at 10 a.m. in the infield media center at Bristol Motor Speedway.
Early speculation is that Darrell Waltrip will be named as the interim driver for the injured Steve Park in the Number 1 Pennzoil Monte Carlo. Park was injured in a practice crash earlier this month. He is expected to return to action late this season. Seven-time Winston Cup Champion, Dale Earnhardt, is the car owner.
Waltrip, who picked up a new sponsor in January, decided to sell his team after last weekend's race in Darlington. He sited failures from his sponsor as the reason for selling the team he has owned for the past eight seasons. Waltrip is a three-time Winston Cup champion.
Editors Note: The images displayed in this article are available for larger viewing in the Racing Image Galleries
.