---
Season Turning Around for Kenny Wallace
23 March 1998
Kenny Wallace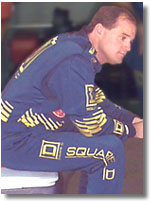 HARRISBURG, N.C.
- Square D Ford driver Kenny Wallace notched his second top-10 finish of the season in Sunday's TranSouth 400 at Darlington (S.C.) Raceway. The 34-year-old St. Louis native was the last driver on the lead lap, wheeling the No. 81 Taurus to a ninth place finish.
"The Square D car has done this two races in a row now," said Wallace. "It's what this team has worked hard for and what we're continuing to strive for. We made a decision during the off-season that we didn't want this team to be a 30th place team anymore. We need to have about six more runs like this before we're for real, but it's been a pretty good deal here the last couple of weeks."
The sixth stop on the 1998 NASCAR Winston Cup Series schedule comes this Sunday at the .533-mile Bristol (Tenn.) Motor Speedway with the running of the Food City 500. The steep 36-degree banking of the corners combined with the short front and back straightaways make Bristol one of the more demanding venues on the Winston Cup circuit. Nevertheless, Wallace has enjoyed much success at the "World's Fastest Half-Mile."
"I got a pole in the Busch Series (1992 Food City 250) and got my second Winston Cup pole (1997 Goody's Headache Powder 500) at Bristol," said Wallace. "I've won a Busch race (1994 Food City 250) there too. The place has been good to me.
"To survive Bristol, you've got to have a well-handling race car. When your car's handling, you're able to keep people off your rear bumper. Usually, all the wrecks happen from people simply hitting you in the rear end or by getting underneath you and tapping you in the left rear.
"You've got to race hard but defensively," continued Wallace. "You can't run over people. As the old saying goes, you must first finish to finish first."