---
The Callahan Report: Jarrett Earns Another Darlington Victory
22 March 1998
Dale Jarrett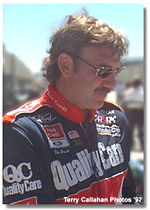 DARLINGTON, SC:
The biggest news in NASCAR the past few weeks has been about spoilers, air dams, and the dominance of the Ford Taurus. It was Ford Taurus in victory lane once again, but Chevrolet was making lots of noise.
For the 16th time in his career, Dale Jarrett drove to victory. It was close racing....just like NASCAR promised. So close in fact, there is a mark on Jarrett's rear bumper to prove it. Jeff Gordon left some Chevrolet paint on Jarrett's Ford on the last corner of the last lap. Jarrett went on to win the TranSouth 400 for the second year in a row.
Jarrett commented about the victory, "It got exciting there at the end. We were catching lapped traffic. I tried to use it to my advantage. I ran Gordon out of race track down there in turn four. We touched a little, but professional that Jeff is, he didn't turn me or anything.''
Gordon, the defending Winston Cup champion said, "I thought I was going to get by Jarrett at the end, but I just didn't have enough. If I didn't back off we'd have had a crash, and you don't want that."

Jeff Gordon, Defending Winston Cup Champion
Jeff Burton looked to be the man to beat throughout the race. Burton, also in a Ford, led 195 of the 293 lap event. Burton made a chassis adjustment on his last pit stop. He faded to fifth at the end.
Jarrett was more concerned with Burton than Gordon. He said, "I got the car good at the end. I almost used too much of it trying to get by the 99 (Burton's car number). He was good and I didn't know if we could get by him."
Burton led the Roush Racing super team, which has five cars. Four of those cars were in the top ten. Mark Martin, Johnny Benson, and Ted Musgrave finished 7th, 8th, and 10th. The fifth member of the team, Chad Little, finished 17th.
It was another day of team work for Penske-Kranefuss Racing. Teammates Rust Wallace and Jeremy Mayfield had another top five finish. Wallace was in third, Mayfield fourth. The consistency of the team placed Wallace and Mayfield first and second in the season point standings.
There are three car manufacturers in NASCAR Winston Cup competition. They are Ford (Taurus and a few Thunderbirds), Chevrolet (Monte Carlo), and Pontiac (Grand Prix). NASCAR likes to see an even mix of these manufacturers battling for the win each week. Recently, the new Ford Taurus has been dominating the races. Three weeks ago, NASCAR took a quarter inch off the Ford Taurus spoiler height. The change was ineffective. Last week, NASCAR took an inch off of each side of the Ford Taurus spoilers. The latest rule had some effect. There were more Chevrolets running good qualifying speeds. There were also Chevrolets battling in the top ten during the race. At the end of the TranSouth 400 however, there were only two Chevrolet Monte Carlos in the top ten. One more tweak of the rules should settle the complaints. NASCAR racing should be back to normal soon. Close finishes with an equal mix of car manufacturers will once again be the order of the day.
There were 18 lead changes among 6 drivers. All 6 were driving Fords. Chevrolet never led the race, but they were in contention to win at the end.
The race was slowed by five caution periods. Jarrett's average speed was 127.962 mph. He earned ov $110,000 for his Sunday afternoon drive.
TranSouth 400 finishing order with finishing position, (starting position), driver, hometown, car make, laps completed, and money won:

1. (3) Dale Jarrett, Hickory, N.C., Ford, 293, $110,035.
2. (24) Jeff Gordon, Pittsboro, Ind., Chevrolet, 293, $75,705.
3. (14) Rusty Wallace, St. Louis, Ford, 293, $52,240.
4. (37) Jeremy Mayfield, Owensboro, Ky., Ford, 293, $45,930.
5. (2) Jeff Burton, South Boston, Va., Ford, 293, $40,075.
6. (33) Terry Labonte, Corpus Christi, Texas, Chevrolet, 293, $48,600.
7. (1) Mark Martin, Batesville, Ark., Ford, 293, $47,995.
8. (21) Johnny Benson, Grand Rapids, Mich., Ford, 293, $26,340.
9. (26) Kenny Wallace, St. Louis, Ford, 293, $33,285.
10. (20) Ted Musgrave, Franklin, Wis., Ford, 292, $39,930.
11. (9) Ward Burton, South Boston, Va., Pontiac, 292, $33,500.
12. (27) Dale Earnhardt, Kannapolis, N.C., Chevrolet, 292, $37,595.
13. (16) John Andretti, Indianapolis, Pontiac, 292, $37,990.
14. (8) Sterling Marlin, Columbia, Tenn., Chevrolet, 291, $24,560.
15. (30) Bill Elliott, Dawsonville, Ga., Ford, 291, $32,430.
16. (7) Michael Waltrip, Owensboro, Ky., Ford, 291, $32,435.
17. (29) Chad Little, Spokane, Wash., Ford, 291, $23,690.
18. (32) Ken Schrader, Fenton, Mo., Chevrolet, 291, $32,820.
19. (36) Steve Grissom, Gadsden, Ala., Chevrolet, 291, $29,740.
20. (17) Robert Pressley, Asheville, N.C., Ford, 291, $20,970.
21. (35) Jimmy Spencer, Berwick, Pa., Ford, 290, $31,405.
22. (22) Brett Bodine, Chemung, N.Y., Ford, 290, $28,840.
23. (6) Bobby Labonte, Corpus Christi, Texas, Pontiac, 290, $33,425.
24. (4) Dick Trickle, Wisconsin Rapids, Wis., Ford, 290, $28,310.
25. (34) Lake Speed, Jackson, Miss., Ford, 290, $20,995.
26. (13) David Green, Owensboro, Ky., Chevrolet, 290, $20,685.
27. (41) Todd Bodine, Chemung, N.Y., Pontiac, 290, $17,300.
28. (19) Mike Skinner, Susanville, Calif., Chevrolet, 289,$20,245.
29. (40) Kyle Petty, Randleman, N.C., Pontiac, 288, $26,940.
30. (43) Darrell Waltrip, Franklin, Tenn., Chevrolet, 288, $26,810.
31. (25) Jerry Nadeau, Danbury, Conn., Ford, 288, $17,655.
32. (42) Jeff Green, Whitehouse, Tenn., Chevrolet, 288, $20,025.
33. (18) Ricky Rudd, Chesapeake, Va., Ford, 288, $32,745.
34. (10) Kevin Lepage, Shelburne, Vt., Chevrolet, 287, $16,215.
35. (38) Bobby Hamilton, Nashville, Tenn., Chevrolet, 286, $23,085.
36. (39) Ernie Irvan, Salinas, Calif., Pontiac, 285, $22,955.
37. (28) Joe Nemechek, Lakeland, Fla., Chevrolet, 285, $22,875.
38. (23) Randy LaJoie, South Norwalk, Conn., Chevrolet, 284, $25,225.
39. (5) Kenny Irwin, Indianapolis, Ford, 270, $30,600.
40. (31) Derrike Cope, Spanaway, Wash., Pontiac, 231, engine, $22,475.
41. (11) Geoff Bodine, Chemung, N.Y., Ford, 144, crash, $22,350.
42. (12) Greg Sacks, Mattituck, N.Y., Ford, 142, crash, $22,225.
43. (15) Rick Mast, Lexington, Va., Ford, 26, engine, $15,116.
Editors Note: The images displayed in this article (plus many more) can be viewed in the Visions of Speed Art Gallery and the Racing Image Galleries.