---
Letter from Europe: Subaru Impreza WR - Prodrive
18 March 1998
Nicholas Frankl
European Correspondent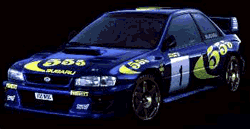 POWER and size. That's what performance driving is all about, just ask a Formular-One driver. These thoughts were not in the front of my mind however, as I crested another brow, the car went light, danced a little on re-entry and exploded along the next stretch of abused bitumen and into another ludicrously fast corner. Speed is all relative, you can drive a clapped out Metro/Geo at 40 mph and feel like you're attempting to break the sound barrier, the really scary bit is when you are doing 40mph around 90° right-handers and it doesn't feel fast.
Now, I always believed--misguidedly it transpires--that you needed to leave the ground before earning air miles. Ha. Roll over British Airways, hello Prodrive.
Pro-who? I hear the voices muttering. Well these are the British chaps who build the world's finest and fastest rally cars for Subaru and Colin McRae. Consequently there's nought they don't know about what makes an Impreza tick.
Now Dave Richards--he of Benetton F1 stewardship and also founder of Prodrive engineering--is kind of a misnomer. A seriously successful businessman and car builder (he oversaw Alfa Romeo's BTCC Championship wins and now looks after Honda), all before taking on Formula One, he is also a rather good bloke. Something not right here. Anyhow what to do with all the bits left over from the World Rally Championship? How about customising a road going Impreza Turbo? A car already knocking on sports car performance.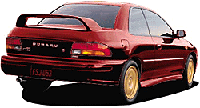 The WRS will cost you £31,600, some £12,000 more than the standard car. So it's not cheap, although no one who experienced the cars performance over the few (too few) days I tested the car believed how "cheap" the whole package was, and different performance elements can though be brought in stages. First and foremost the car looks extremely mean with purposeful 7x17" Speedline wheels shod with 205 45 ZR Pzero's. More importantly the bits underneath have the capability to cash the cheques the body is writing and then some.
Equipped with lowered, up-rated suspension and shocks, and a beautifully precise short throw gearshift, up-rated brakes (drilled disks all round), 15% more power and torque thanks to engine mapping and management system upgrades and an exhaust straight out of the Monte-Carlo Rally. This four door will hold it's own against the fiercest of competition, 0-60 5.5 secs, mid range performance to embarrass a Boxster and a top end knocking on 150 mph. But stats are not what the WRS is all about- like the Lotus Elise, it's the way in which the car performs it tasks, the feeling of control and the intimacy of the controls that are the key to this miniature Scud's character.
The steering feels a little light, not helped at all by the Pirelli Pzero's which I have to say are the worst high performance tyres out there, and I've tried them on everything from my 16v Clio to F40 Ferrari's. Too soft and too uncommunicative. Show me a set of Michelin pilots and the WRS would be near perfect. Yes, of course there is turbo lag and not much happens below 2500 revs, but then that goes for anything without 12 cylinders or a lazy V8 and the Subaru has only two litres and four cylinders.
But the delay, if you can call it such, is short lived. The feelings of total driving excitement and the sounds of the flat four whistling away last significantly longer - well until the fuel gauge reads Hungry - an occurrence inversely proportional to the turbo boost needle - one shooting up, the other in free fall. I told you this thing behaved like a rocket.
I took my friend Baron for a spin, he of James Bond fame. Used to cruising the streets of London in his up-rated yellow Diablo, I didn't suppose he would be much impressed by the young pretender- MY GOODNESS he exclaimed as we rounded Hyde Park Corner and accelerated up Park Lane- this is my next company car!
IMPREZA WR by Prodrive
Impreza Turbo 2000 with lots of added goodies.
Contact:
Mike Wood - Prodrive sales manager.
Call:44 (0) 1295 273355
Fax : 269330