---
The Callahan Report: Waltrip to Sell Team After Darlington
18 March 1998
Darrell Waltrip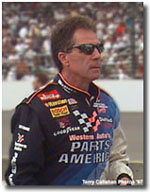 DARLINGTON, SC:
Darrell Waltrip was once the most feared racing driver on the track. If he was entered into a race, it was a safe bet he would challenge for the victory. He was so fierce, he won the Winston Cup Championship three times.
Racing success has been lean the past few years for Darrell Waltrip. Things hit rock bottom this week. After eight seasons as an owner/driver on the NASCAR Winston Cup circuit, Waltrip is selling out. At the age of 51, Waltrip's driving days may soon be over. Waltrip will put his racing team up for sale at the conclusion of the Darlington race this Sunday.
Referring to his owner/driver venture, Waltrip said, "I've tried it and it hasn't worked."
It will be up to the buyer whether or not Waltrip remains in the driver's seat. Waltrip said, "If the new owner wants someone else to drive, I'll try to find another driving job. I know I can still drive a race car and win races. I feel confident I'll get an offer from somebody, somewhere."
The 1998 season is still young. Waltrip is off to his worst start in 27 years of racing. He is ready to concentrate on driving instead of business. "Not having to deal with the day-to-day operation ... will free me to concentrate solely on driving a race car. Maybe that's what I should have been doing all along,'' he told The Tennessean.
Waltrip terminated Speedblock contract last week.


Waltrip searched long and hard over the winter to find a sponsor for 1998. He announced in January that Speeblock, Inc. of Kent Ohio would be his new sponsor. Last week, Waltrip dropped the Ohio company as part of a contract dispute.
Waltrip commented on his woes, "I've spent $1 million out of my own pocket so far this season, and I can't keep doing that,'' he said. ``I'm selling my team to somebody with deeper pockets.'' His racing team employs over 40 people.
The former three time champion has only qualified for one race this season. He has been forced to use "provisional starts" in the other events. His best finish so far this season was 33rd at the Daytona 500. These results are far off his normal pace. In 27 years of racing, Waltrip has never finished worse that 29th in the final point standings.
It is hard to believe just a few short years ago it was Darrell Waltrip tearing up the Winston Cup Circuit with astonishing seasons. Waltrip was once the kid with more than 10 wins in a single season. Waltrip's total victory count is now at 84. He has not visited victory lane sine 1992.
Time passes so quickly. Nature plays mean tricks. Without Darrell Waltrip running around the track, something will be missing. We all know that things change, but we don't have to like it. You can bet ole' DW will be there at the track . . . somewhere . . . blessing us with his amiable style and character. It is a style that defines NASCAR.......laid back and personable.
Editors Note: Check out some of the highlights of Darrell Waltrip's career from our media library:

The images displayed in this article (plus many more) can be viewed in The Racing Image Galleries and the Visions of Speed Art Gallery.