---
The Callahan Report: Andretti Wins Wheel to Wheel Battle
15 March 1998
Michael Andretti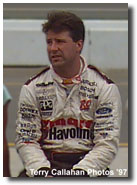 HOMESTEAD, FL:
The CART Fed-Ex Championship series has been taking on more of an international flavor in the past few years. Today it was All-American. A born and raised American driver, Michael Andretti, was the winner. He was driving an All-American Swift Chassis. His engine had the American name FORD all over it.
It was the first victory for Andretti in a year. His last win on the circuit came in the 1997 season opener in Homestead. Andretti has a knack for this fast short oval. Andretti commented, "We feel more confident about the car than we did last year after we won here because it's more proven.''
Andretti continues to be the winningest active driver in the series. He added victory number 37 to his resume today. If his victory today was an indication of the competitiveness for the season ahead, it will be a season to watch.
Andretti took the lead with 43 laps remaining in the 150 lap event when he passed defending series champion Alex Zanardi. Polesitter Greg Moore was also able to get around Zanardi and gave Andretti a very serious challenge at the end. Andretti won by less than a car length over Moore. Zanardi finished third.
Moore was lucky to be in the hunt at the end. His team overcame an onboard jack failure to get their driver back to the front. Moore dropped to the back of the field after the team had to use manual jacks to change tires on the first pit stop. Moore did not bother to change tires on his last stop. His fuel only stop put him in a position to win. Polesitter Moore qualified almost three mph faster than the next fastest car in the field.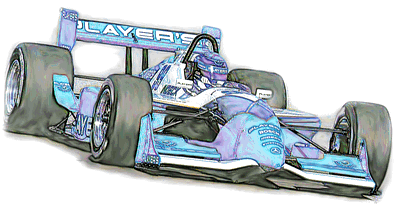 Greg Moore
Moore commented about the jack problem, "Basically, if you let it bother you. there's no way you'll get back up through the field. Nobody panicked, and second place is pretty good.''
Lapped traffic played a part in the close finish. Andretti said, "The last five laps, I played it real conservative. I was almost too conservative. But I think I still had something left there if we needed it.''
Andretti continued, "I was a little afraid to pass him (lapped car of P.J. Jones) on the outside there because I didn't know if there were marbles out there. I wanted to pass him on the inside, and I had to wait for the right moment.
"Greg had been using that outside lane, and he didn't back off. That's when it got interesting. If I had to, though, I would have gone quicker. Maybe it looked a little closer than it was.'' Moore commented on his run saying, "Steve Challis, my engineer, asked me with about five laps to go if I thought I had anything for him. I said, `If we get traffic, I think we do.' If we'd have got the white flag when we got the checkered, I think I would have had him.''
Moore concluded, "I was about three-quarters of the way up on him (Andretti) when he slid up and took the air off my front wing and I had to back off."
Andretti led a total of 62 laps. His average speed for the 225 mile event was 144.339 mph. Andretti's teammate, Christian Fittipaldi, finished fourth in another American built Swift Chasis.
Veterans Scott Pruett and Adrian Fernandez looked very hot in this season opener. Pruett finished fifth. Fernandez, who struggled all season last year, ran up front today and finished sixth.
The CART Fed-Ex Championship resumes in Japan in two weeks.
Editors Note: The images displayed in this article (plus many more) can be viewed in Racing Image Galleries and The Visions Of Speed Art Gallery.