---
Kenny Wallace: Tough Times for a Fine Driver
4 March 1998
Kenny Wallace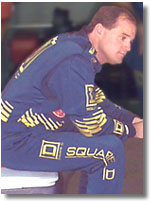 HARRISBURG, N.C.,
- Square D Ford driver Kenny Wallace had a prospective top-10 finish literally go up in smoke in Sunday's inaugural Las Vegas 400 when his engine expired on lap 179 of the 267-lap event held at the 1.5-mile Las Vegas Motor Speedway.
"We blew up - plain and simple," said Wallace. "It looks like we had some kind of a part failure.
"What a day it was for the Square D Ford. It ran awesome - which meant a lot to us. Unfortunately, we can't get consistent. We're doing everything it takes to show our stuff, and then we have a part failure. We'll just move on to Atlanta and try to get it again."
The last time the Winston Cup Series visited the reconfigured Atlanta Motor Speedway, Ford pilot Geoff Bodine scorched the 1.54-mile oval in 28.074 seconds for a track record speed of 197.478 mph. Will we see the same kind of speed when the series returns to Atlanta for the Primestar 500?
"I don't think so," said Square D Ford driver Kenny Wallace. "Back in the fall the asphalt was fresh, we had more rear spoiler, a 14-to-1 compression ratio engine and a Thunderbird body. Now the pavement is weathered, we've got less rear spoiler, a 12-to-1 compression ratio engine and a Taurus body. It's a different ballgame.
"With the new rules for the Taurus (five inches of front air dam height and 4.75 inches of rear spoiler height), you can't drive into the corners as hard as you used to and you can't get on the gas as quick because there's less overall downforce on the car. We'll still be quick, but I bet that we'll be about three-10ths off what Geoff ran in the fall."