---
The Callahan Report: Mark Martin/Roush Dominate Las Vegas
1 March 1998
Mark Martin

LAS VEGAS, NV
: In pre race interviews, several NASCAR drivers said the race at the new Las Vegas Motor Speedway could be "One of the best races you will see all year." It was a great race for a few teams and drivers, but for the NASCAR fans who are used to close racing, it was a blowout. Mark Martin won the race by more than 1.5 seconds over his Roush racing teammate, Jeff Burton.
Martin commented on his victory at the inaugural Las Vegas 400, "This is the ultimate race track. I really love this place. You can run on any part of the track and that is great. But my team gave me a great race car and this is just incredible. I feel like God answered my prayers today because I was sure we were going to fall out of the race with about 120 laps to go because we had a terrible vibration. But if I was going to fall out, I was going to fall out while leading."
Winston Cup car owner, Jack Roush, is a motor genius. He is the owner of five cars on the NASCAR circuit. His cars dominated the first NASCAR race in the Las Vegas area since 1955. All five Roush cars finished in the top ten. Following Mark Martin and Jeff Burton across the finish line were Johnny Benson (fourth), Ted Musgrave (sixth), and Chad Little (tenth).
Jeff Burton

Burton was satisfied with his second place finish. He said, "I'm awfully proud of this Roush team, they did an awesome job. This is why we joined up, so we could run 1 and 2. We have a hell of a team and I'm real proud of everybody." He continued, "Mark had us beat on pit position because I got in trouble on pit road. It was a good day for us, though. This day is good for the whole team."
Two other top ten spots were reserved for Penske Kranefuss Racing. Rusty Wallace continued his string of consistency with a third place finish in the desert. His you teammate, Jeremy Mayfield, mustered another top five in his Mobil sponsored Taurus. All other racing teams seemed baffled by what Las Vegas had to offer.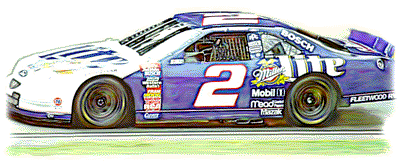 Rusty Wallace, Points Leader
Pre race favorite and defending Winston Cup Champion, Jeff Gordon, was not optimistic of Chevrolet's chances. He said before the race, "I've seen four Fords already put a straightaway on me in about 10 laps (of practice). That's not a lot of fun. We're not saying stop those guys. We're saying we've got to get our car better. We don't give up on it. We just keep working on it and trying to get it better."

Jeff Gordon, Defending Winston Cup Champion
Gordon may have a future in the fortune telling business. Only one chevy finished in the top ten. Daytona 500 champion, Dale Earnhardt was the highest finishing Chevrolet with his eighth place run. Gordon limped home to a 17th place finish.
Without a doubt, the facility at Las Vegas is first class. It is so smooth in fact, many teams stated they could not get a feel for their cars. For the fans, the grandstands, restrooms, and other amenities are sparkling and new. The management at the Las Vegas Motor Speedway should be commended for their efforts on building a showcase for American Motorsports.
The 1998 NASCAR season is only three races old. Already, it is time for NASCAR to step in and level the playing ground to ensure the on track action provides the racing fans with a real show. At more than $100 per ticket, the action on the track is more important than a large restroom or a short line for your liquid refreshment.
Chevy barely placed two cars in the top 15. Pontiac's top finisher was 18th. NASCAR has always been good at taking swift action to ensure the on track competitiveness of the racing teams. By looking at the manufacturer's performance in the inaugural running of the Las Vegas 400, one could expect some aerodynamic rules changes on the horizon within the next two weeks.... in favor of Chevrolet and Pontiac.
The NASCAR racing season continues in Atlanta next Sunday, March 8, with the running of the Primestar 500.
Editors Note: The images displayed in this article (plus many more) can be viewed in The Racing Image Galleries and The Visions of Speed Art Gallery
.