---
Pressley Optimistic After Daytona 500
17 February 1998
Robert Pressley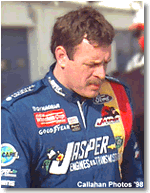 Robert Pressley piloted the Jasper Engines & Transmissions Ford to a 32nd place-finish despite tangling with John Andretti late in the race. Pressley started the race in 30th position but experienced handling problems throughout the first half of the race that prevented him from advancing to the front as planned. It just wants to run up at the wall up off the corners, Pressley explained to the crew during the race. I think well be OK once the track starts to come in, but for right now, Im just going to stay in line.
As the day wore on, Pressley stayed in the lead draft. The first and second round of pit stops came under green flag conditions as the race advanced without an incident until late in the race. On lap 170, Pressley and Andretti were coming off turn two when Andrettis Pontiac made contact with the Jasper Ford. The two cars spun into the infield bringing out the caution that allowed the field to head to pit road for tires and much needed fuel. Pressley brought the #77 down pit road to the attention of the Jasper Motorsports crew. After changing all four tires and filling the car with fuel, the crew sent Pressley back out to finish the race.
That really hurt us, Pressley said later after climbing from the Jasper Engines & Transmissions Ford. We were running down the pack of cars in front of us when John got a run on us coming off turn two. I saw him coming and tried to give him some room. I dont think it was intentional. It was just one of those things that happens on the restrictor plate tracks.
The Jasper Engines & Transmissions Ford Taurus will make its racing debut in Rockingham, North Carolina, this next weekend in the Goodwrench 400 at the North Carolina Motor Speedway. WTBS will provide coverage on the event itself, while ESPN2 will continue to air live coverage of qualifying on Friday afternoon.